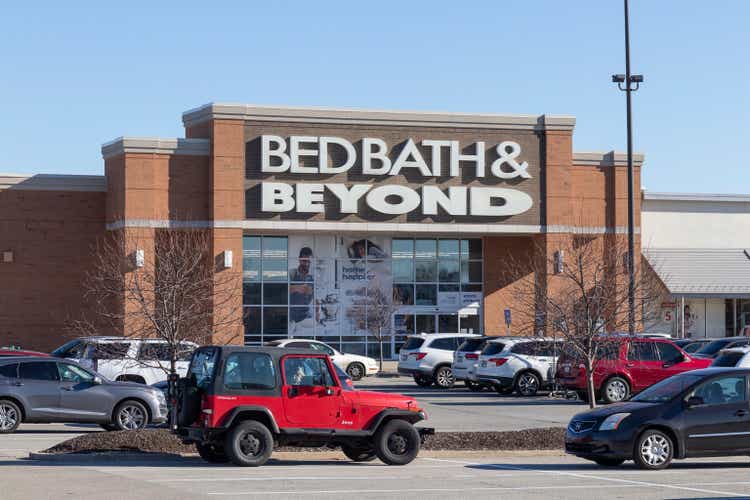 This past week Bed Bath & Beyond (NASDAQ:BBBY) received a default notice from JPMorgan on one of their primary credit facilities. The default notice in combination with a bond interest payment due on February 1st means a bankruptcy filing is likely to be imminent. Due to a significant drawdown in assets over the past two years, it is unlikely that stockholders will receive any payout after bankruptcy.
Reorganization in bankruptcy is greatly misunderstood by retail investors, so let's review how the process works. Upon filing bankruptcy a stock's symbol typically will change to have a "Q" added to the end of it notating that the company has defaulted. The important thing to remember is that this new symbol is not the new shares of the company. They are the same existing shares that is in default. In bankruptcy court proceedings the common shareholder is in the very back of the line to be repaid. Repayment in bankruptcy goes in the following order:
(1) Secured Creditors – Loans that are backed by specific assets, similar to how a home mortgage is backed by the value of a house in foreclosure.
(2) Employees – things like unpaid wages may have to be collected in bankruptcy.
(3) Unsecured Creditors – typically bonds issued by the company, and these can be further ranked as senior or non-senior debt.
(4) Shareholders – Stock holders of the company only receive any compensation at the end of bankruptcy if all the above parties are paid in full.
To have an idea of ​​who might be paid after bankruptcy the corporate balance sheet must be reviewed. As of their November filing Bed Bath & Beyond listed $4.4 billion in assets and $5.2 billion in liabilities. They have been consistently burning through $200 million in assets per quarter, so it is likely their current assets are even lower than this. Another important thing to remember is that the asset value listed on the books is unlikely to be what is recovered in bankruptcy. Things like inventory and property may be lucky to see 50 cents on the dollar in repayment.
According to their recent regulatory filing, "As of November 26, 2022, the Company had (i) $550.0 million of outstanding borrowings under the ABL Facility and $186.2 million of outstanding letters of credit issued thereunder and (ii) $375.0 million of outstanding borrowings under the FILO Facility." These credit facilities are going to be the first in line to be repaid in bankruptcy, and they add up to over $1.1 billion in value. Given the company has over $4 billion in stated assets, there is a strong likelihood that JP Morgan is repaid in full. This means that bond holders and other unsecured creditors may have something left at the end of bankruptcy, but how much?
Based on where the bonds of Bed Bath & Beyond are trading, the bond market does not foresee the full value of this debt being recaptured. The company has the following three bonds traded in the public markets that add up to $1.5 billion:
| | | | |
| --- | --- | --- | --- |
| CUSIP | interests | maturity | issue |
| 075896AA8 | 3.75% | 8/1/24 | $300,000,000 |
| 075896AB6 | 4.92% | 8/1/34 | $300,000,000 |
| 075896AC4 | 5.16% | 8/1/44 | $900,000,000 |
For the majority of the past six months all three bonds have traded at under 30 cents on the dollar, and in the past month that value has fallen under 10 cents. So, in the opinion of the bond market, it seems unlikely that this $1.5 billion tranche of debt will be repaid in full, and based off the pricing there are apparently many investors who think it won't be repaid at all.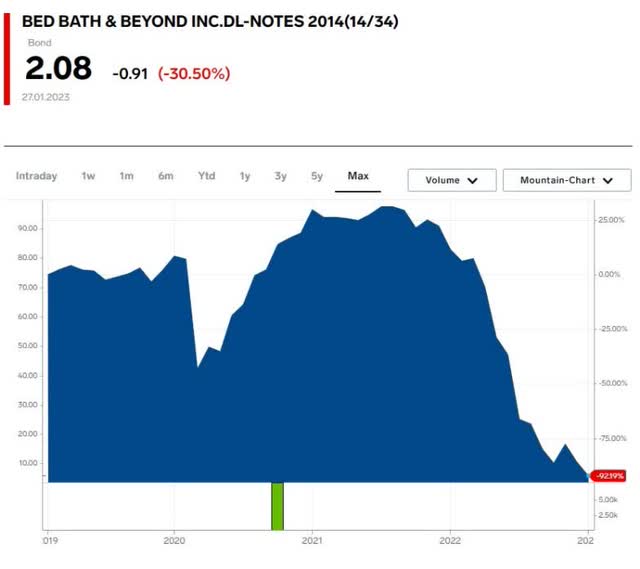 If there are questions about whether senior bond holders will receive any payment after bankruptcy, the chances of payment to common shareholders are extremely unlikely. Bed Bath & Beyond probably should have filed bankruptcy years ago, but it was given several last gasps of breath thanks to several meme stock rallies. Given the interest this one will generate on the day it files bankruptcy it is likely to have one last pop in it due to the public's misunderstanding of how bankruptcy proceedings work. The prudent investor would be smart to bail on this one into any market strength. Regardless of whether the company is fully liquidated in bankruptcy or restructured, expectations for the value of common shares should be $0.00.