Not minding the fact that they have no furniture, a couple parked into their new house with just an air bed
The lovebirds took to social media to display how they arranged the air bed and prayed in readiness to lay on it
The contented couple noted that having God by their side as well as having each other is all that matters
A couple who moved into their new house with just an air bed has earned the admiration of netizens.
A TikTok page run by the couple shared a clip of them laying the air bed with a bedspread in a bid to ready it for use.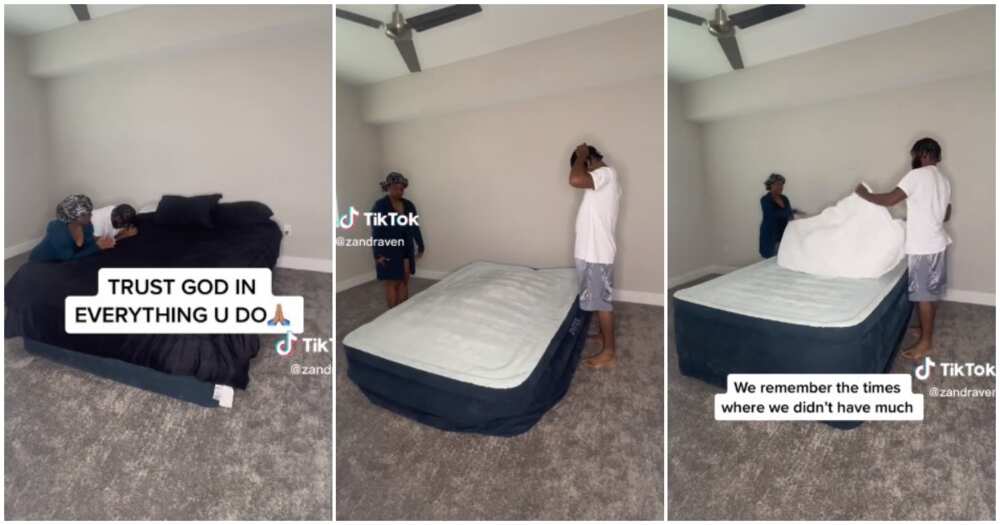 Write-ups on the clip gave more explanation of the couple's situation. The write-ups read that the couple was sleeping in their new home for the first time and do not have any furniture.
The couple looked back on the times when they didn't have much and appreciated God for bringing them this far.
After laying the bed, they knelt down to pray by its side.
A caption beneath the clip goes thus:
"As long as we have god on our side that's all that matters…. First night in our beautiful home & we slept on an air mattress we're going to make so many beautiful memories together in this house."
Watch the video below:
Social media reactions
islandgem316 said:
"Finally! My timeline with people who identify as children of YASHUAthere is hope."
keepitreal411 said:
"That's perfect material stuff comes later slowly God bless you guy's."
❤love said:
"Do you, when we 1st got our house we slept on an air mattress for a few months, my goal was outside furniture and house supplies my room would be last."
Andrew Hicks said:
"Me and my sons mom moved in our first place like with nothing but us and our son but things came together soon."
AngelBaby14 said:
"I need more couple friends like y'all. Ones that pray together. Congrats and God bless."
Poetry said:
"No cap if the air bed didn't deflate in the middle of the night I would b okay."
Couple sleep on the bare floor of their house
meanwhile, Legit.ng previously reported that a couple had slept on the bare floor in their new house.
The wife of the house who shared the clip on TikTok revealed that they just finished building the house and moved into it just like that.
According to her, there is no single piece of furniture in the house as they would only arrive next year. In the clip, they covered themselves with a wrapper as they lay together on the floor. Another scene showed them sitting on the staircase as they shared snacks together.
Source: Legit.ng