The Beckhams have posted on Instagram to send well wishes to their daughter-in-law, Nicola Peltz Beckham, on her 28th birthday, seemingly putting the rift rumors to bed. Victoria posted an Instagram photo on Jan. 9 of the pair sitting in a kitchen after dinner, covering their mouths and laughing. She captioned the photo, "Happy Birthday @NicolaAnnePeltzBeckham Hope you have a lovely day!!! x" with a pink heart emoji.
David also posted a snap of Nicola from the same day holding a leaf in front of her face, wishing her a happy birthday. Nicola reposted both her in-laws' messages on her own platform, adding "Thank you so much!"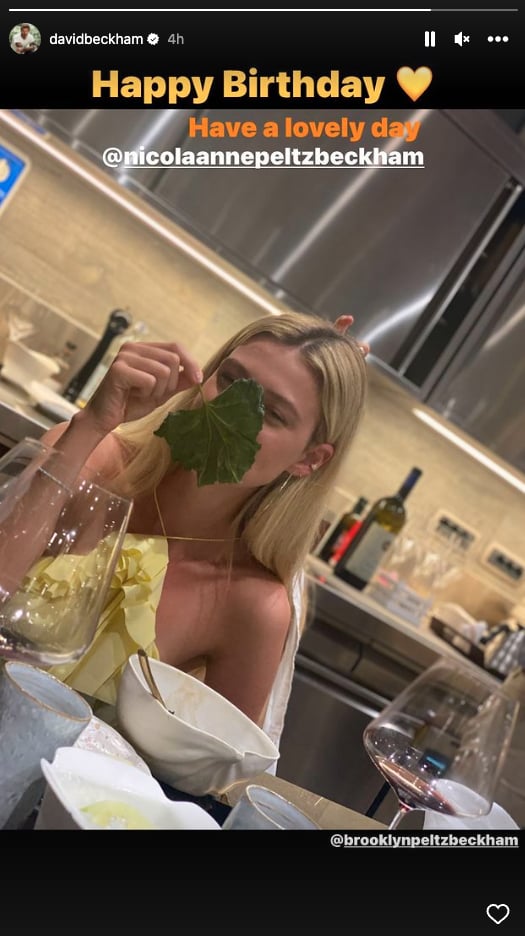 Image source: Instagram user davidbeckham
Rumors of a feud between Victoria and Nicola began circulating after the latter's wedding to Brooklyn. Fans expected her to wear a Victoria Beckham dress, but instead, she wore a design from Italian fashion house Valentino. Speaking to Grazia USA, Nicola was keen to clear up the rumors and explain there was no animosity, simply that Victoria's atelier was unable to make the dress. "It makes me sad when I read things that people say I was never planning on wearing it. That's just not true," she said.
Brooklyn was also keen to set the record straight, telling Variety, "I've learned they're always going to try to write stuff like that. They're always going to try and put people down. But everyone gets along, which is good," he said as he covered the Power of Young Hollywood issue.
However, the rumor mill continued to flow over Christmas when both Victoria and David posted snaps from their New Year celebrations. While they tagged Brooklyn, who spent the festive period overseas with his wife and Selena Gomez, they both failed to mention Nicola, causing fans to notice the familial absence. However, these latest public birthday messages from the Beckhams put paid to the negative gossip and show their affection for their daughter-in-law.
Nicola celebrated her birthday a little early on Jan. 8 with a dinner party, as Brooklyn was quick to add his appreciation post in the mix. He added a video on Instagram, writing "Happy early birthday to the woman that changed my life. I love you so much baby and I am so lucky to be able to wake up to your gorgeous face every morning. Hope you have the most amazing birthday because you deserve the world."