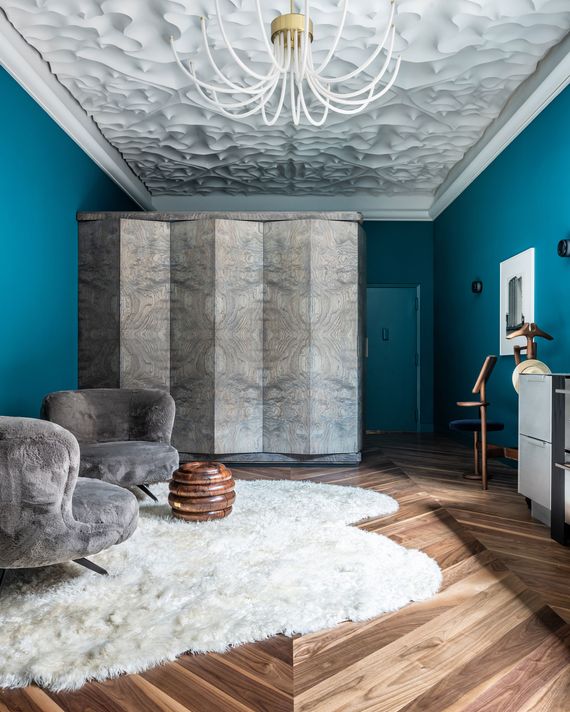 Bed box (closed): The sleeping container is hidden behind these root wood shutters.
Photo: Alan Tansey
Bryan Jung, Director of Young Projects, has worked with Michael and Sukey Novogratz on various homes for 20 years, including their 20,000 square foot beach vacation in the Dominican Republic. In New York, the Novogratzes live in an 11-story building in Tribeca, and when a 500-square-foot studio became vacant downstairs, they bought it with the intention of using it as a guest apartment.
This studio was a comparatively small project for Young: when he started working on it more than a year ago, it had the allure of a college dorm, complete with a platform bed towered over a mountain of boxes and piles of neglected stuff at one end and at the others a structure that, in addition to the open kitchen, houses even more chaos.
Bed box (open): The inside is big enough for a bedside table. There's no lid so you can stare up at the ceiling and the Bloom chandelier (from Morghen Studio).
Photo: Alan Tansey
Young decided to make the small room as dramatic as possible, starting with the ceiling. The swirling clouds of plaster are the result of a technique that was developed for a proposal to redesign the performance space The Kitchen. "We didn't win," says Young, "but as part of our proposal, we developed this plaster of paris prototype that is practical and analog. We worked digitally in the office to generate a rather complex form. "The form for this was made with a pencil stick and furniture foam. "So it's a very DIY sensibility about how we could create something pretty complex." It was made by Nathan Frey of Masterworks Plaster.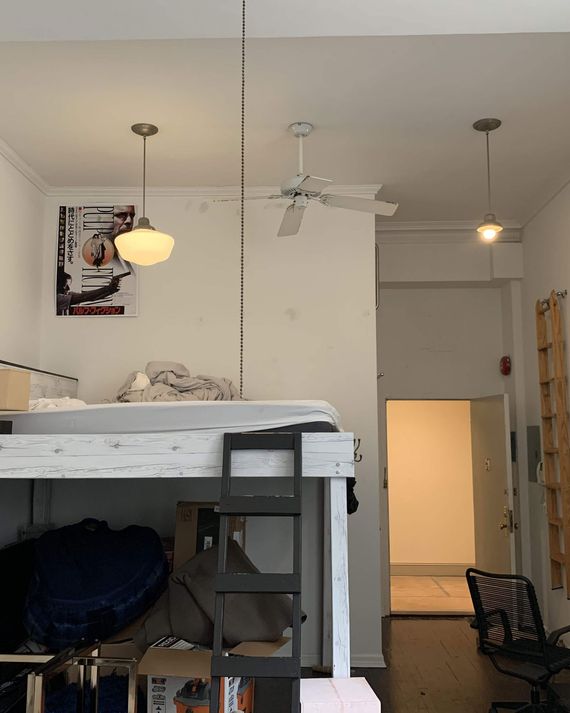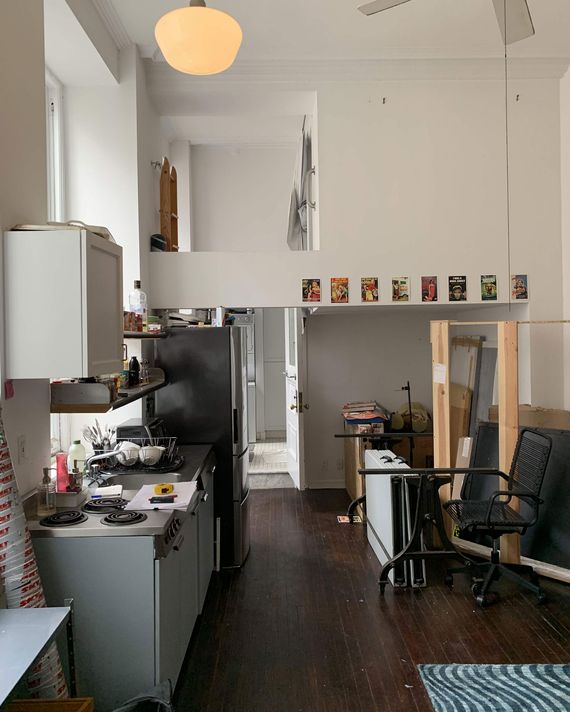 On the one hand, it resonates "in the repetition with the ornamental graphics of sheet metal ceilings," says Young, "and on the other hand it definitely feels tailor-made and handcrafted, like a plasterer creates a rosette in the middle of the ceiling." It directs the view of its undulating landscape, which is reflected by the cream-colored carpet below.
He stowed the bed in its own cozy burl wood box. In this little sleeping paradise there is a closet, a bedside table and a bookshelf, and the area can be closed off by a panel that Young describes as "reminiscent of a free-standing screen in a room".
The good thing about a place for guests is that it enables "a certain immersion, which is perhaps a little more intense because it is designed for a short stay and in this sense can represent a more dynamic environment".
The studio, according to: The built-in bench looks out onto a brushed aluminum kitchen unit under three windows. Young selected the center painting by Sage Vaughn from the customer collection for the wall. "Coincidentally, it seems to work quite well in terms of size and color."
Photo: Alan Tansey