TikTok user Emma Hoffström is urging others to "please be careful with your skin" after she was left with severe burns following an 18 minute face tanning bed session earlier this summer.
Emma, ​​a social media influencer from Sweden, has since healed from her frightening experience and shared a series of before and after photographs in a TikTok video in June, which amassed more than six million views.
The TikTok user is initially seen smiling inside a tanning machine before showing what happened next. Her skin color then appeared to be bright red and swollen in some areas, leading her to seek medical help. Emma ultimately found herself in a nearby hospital with bandages all over her face, including her eyelids.
Following the removal of the bandages, Emma is seen with blisters and scabs on her swollen face. "I had too little information on using face tanning machines and wanted to try it out but didn't realize the bad effects it can have on you," Emma said in a follow-up TikTok video.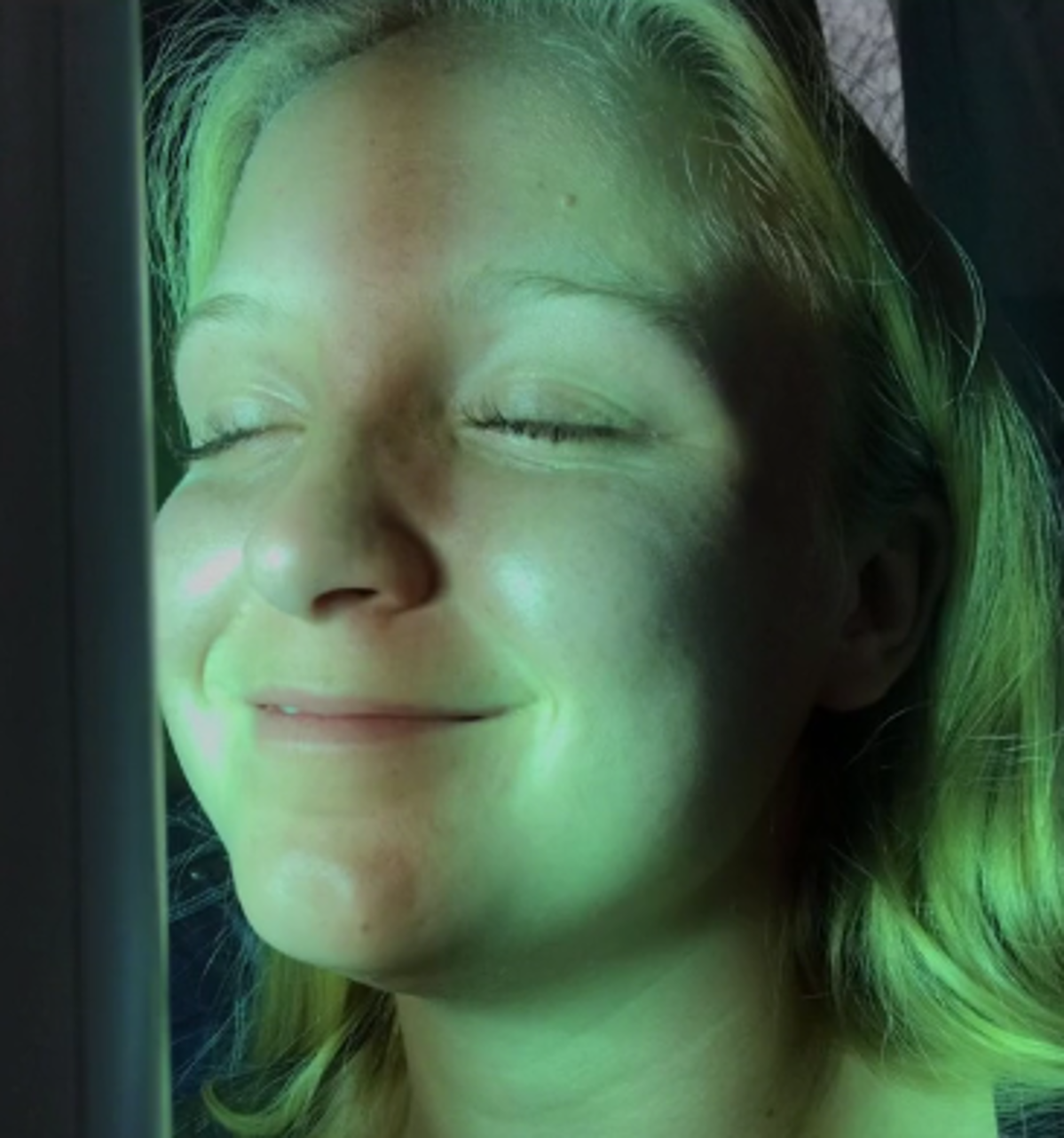 Related: Man, 23, Who Used Tanning Beds FIVE TIMES A WEEK When He Was Underage 'Because I Wanted To Follow The Crowd' Now Has Skin Cancer
Doctors gave Emma "a lot of painkillers, antibiotics, cold compresses, and creams" to help her heal, the TikToker explained.
And although her father took action and complained to the tanning salon where Emma's incident took place, they have decided not to sue.
Emma said the most significant issue with the face tanning machine was that it had "no time limits." She told her TikTok followers, "It felt hot like you were in the sun but I didn't think anything bad would happen. There was nothing alarming while I was in there."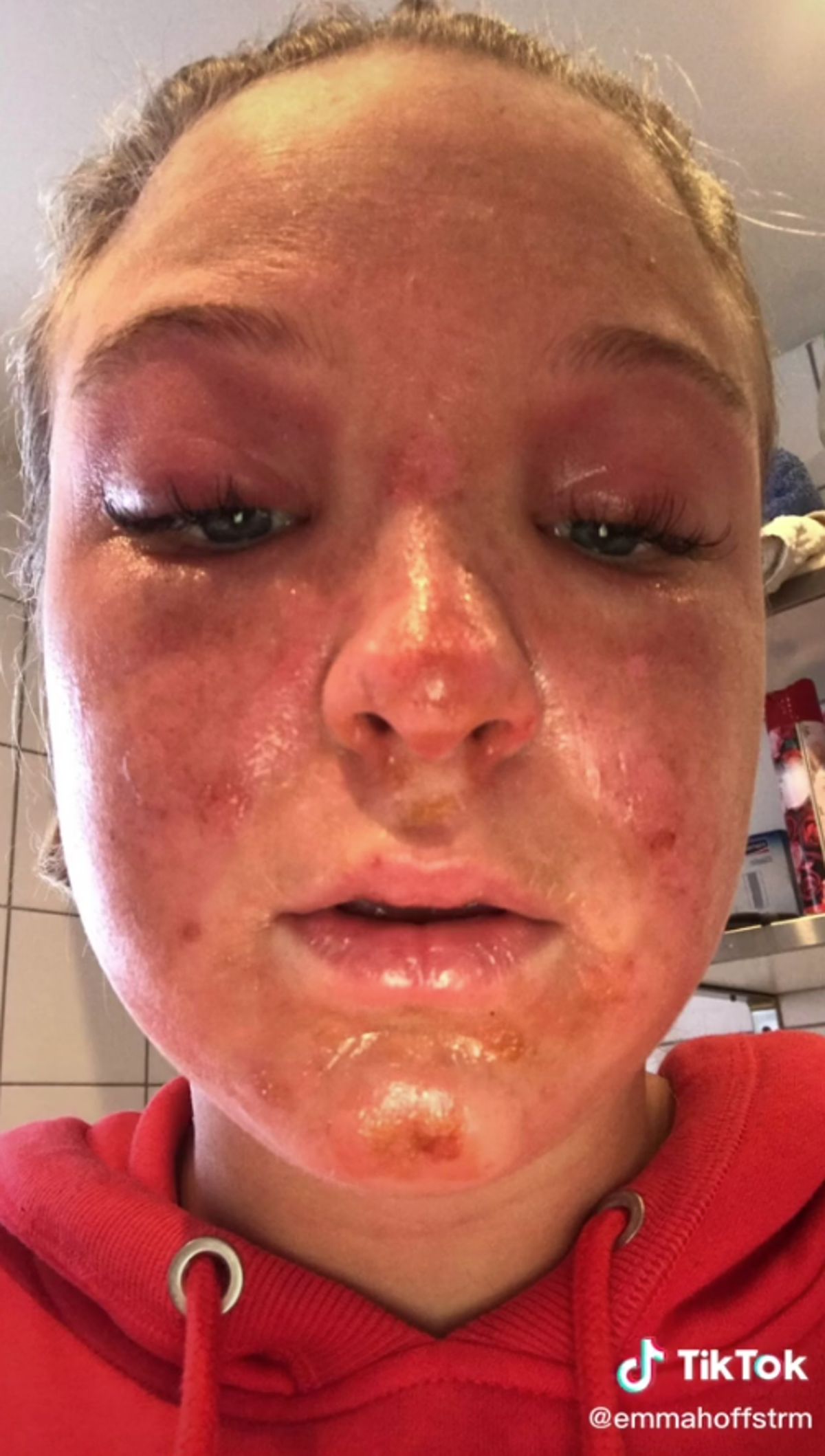 Emma said the tanning bed didn't have a time limit on how much UV light a person could get. She also claims to have not taken any types of medication beforehand that could have led to the reaction.
As the Tik Tok user answered questions from fans in her follow-up video, she noted that she didn't get skin cancer from the incident, or at least it is unknown as of now. "Hopefully I will not get skin cancer, but I do not know," she added.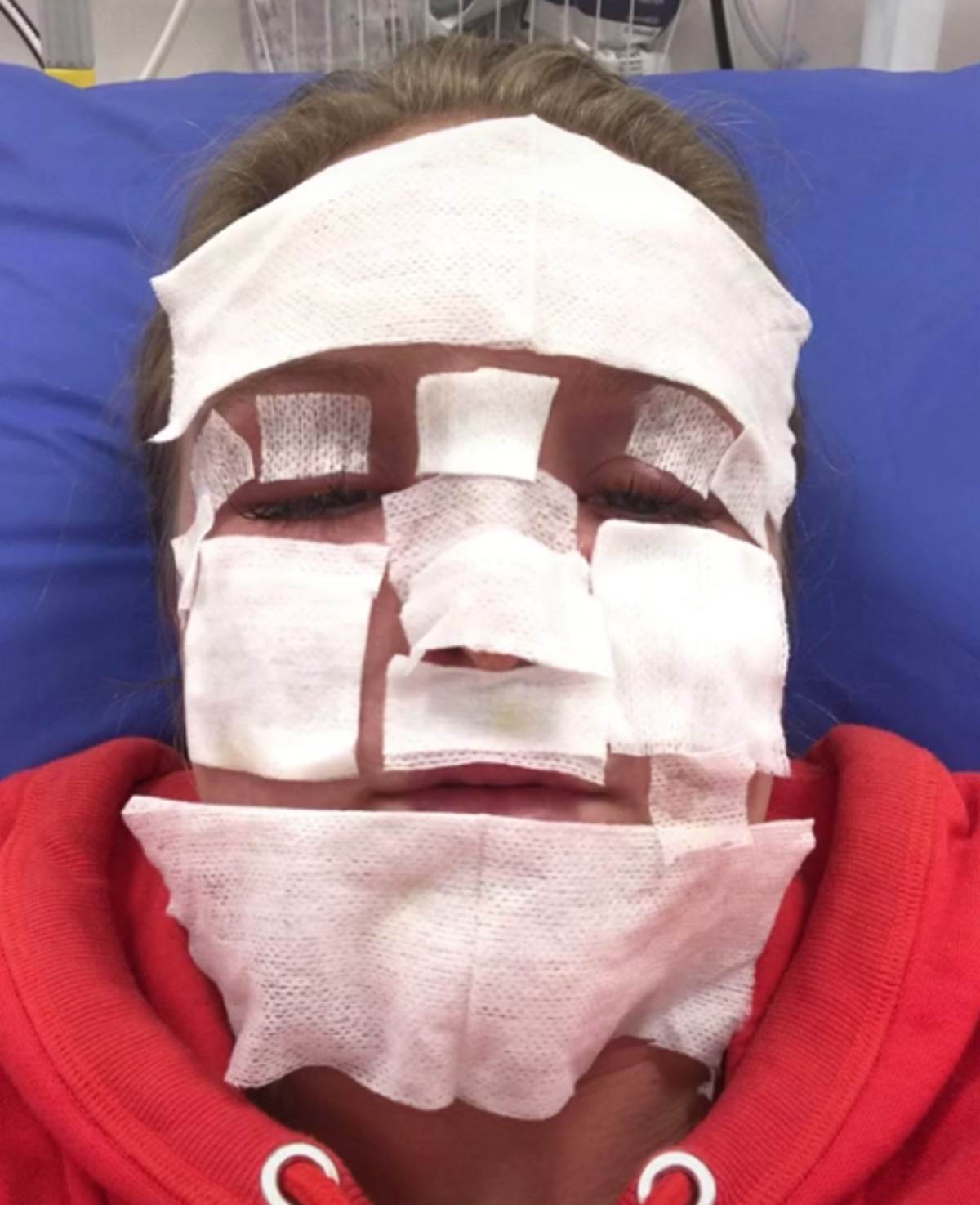 The Dangers of Tanning Beds
If you're considering visiting a tanning bed, we highly suggest you think again. Just one indoor tanning session can increase the risk of skin cancer — melanoma by 20%, squamous cell carcinoma by 67% and basal cell carcinoma by 29%, according to the American Academy of Dermatology.
When you hop into a tanning bed, you are exposing yourself to the very same dangerous rays you expose yourself to outside, but those rays are only 6-8 inches away. And in a study recently published in Cancer, a peer-reviewed journal of the American Cancer Society, researchers suggested that banning tanning beds among minors would prevent thousands of cases of melanoma in adolescents, along with millions of dollars in health care costs.
So, even if the temptation of achieving a nice "glow" seems irresistible, you should note that health experts warn against using tanning beds.
Related: Mom, 29, 'Only Used Tanning Beds Twice A Week' Before Summers And Vacations: Then Her Leg 'Went Numb' And She Was Diagnosed With Cancer
dr Anna Pavlick, an oncologist specializing in skin cancer at Weill Cornell, explained to SurvivorNet that tanning beds increase your chances of skin cancer "exponentially."
"We know there is a direct correlation with (melanoma) patients who go to indoor tanning salons," Dr. Pavlick said, noting that the exposure "is about 6 inches from your body."
Tanning Salons Pose a Big Risk of Melanoma
The sun is millions of miles away when you're on a beach, "so you have to think of the intensity that you're exposing your skin to when you go to a tanning salon," she added.
How to Protect Your Skin From Cancer
The Skin Cancer Foundation estimates that more than 5 million cases of skin cancer are diagnosed in the United States every year, making it the most common cancer in the US
Related: Dermatologist Was So Obsessed With Tanning Beds She Had TWO MEMBERSHIPS To Get Around Salon's Daily Limits: Then She Got Cancer
As the warmer weather months are still upon us it's important to remember to protect your skin from skin cancer this summer.
dr Dendy Engelman, a board-certified dermatologic surgeon and associate at Manhattan Dermatology and Cosmetic Surgery, previously told SurvivorNet that protecting your skin is easy with these simple steps:
Sun avoidance during peak hours: This means from 10 am to 2 pm It doesn't mean you should never go outside during the middle of the day, but make sure you're protected when you go outdoors.
Cover your skin and eyes: Wearing a wide brim hat or sunglasses will protect your face, the top of your head, your ears and the delicate skin around your eyes.
Wear an SPF of 30 or higher: Plenty of facial moisturizers have SPF built into them. dr Engelman recommends reapplying every few hours, or after excessive sweating or swimming.
Get an annual skin check: If you happen to notice anything out of the ordinary in between checks (like the signs outlined in this article), schedule an appointment to talk to your doctor as soon as possible.
No-go to tanning beds: Tanning beds can significantly increase your risk of developing melanoma. If you feel like you're just too pale, Dr. Engelman recommends a sunless tanner.
Top 5 Ways to Protect Your Skin From Skin Cancer
Contributing: SurvivorNet Staff
Learn more about SurvivorNet's rigorous medical review process.
---