May is prime time for gardens, and garden inspiration. The Insider is mixing it up a bit this spring, with some garden posts to meet the season. – CG
Brook Klausing's clients had recently purchased the two lower floors of a brownstone, with impressive, large-paned windows on the back wall that Klausing likedned to "viewing boxes." But there wasn't much to see. "The backyard was a blank slate," he recalled.
The challenge was to create something both dog friendly and attractive to gaze out upon, as well as versatile for dining and entertaining. "We could have paved it, but gravel is a softer effect," said Klausing, who founded Crown Heights-based garden design-build company Brook Landscape about 15 years ago, "We used strategic planting beds to bring in the green."
To break up the gravel expanse, he created a few rounded beds in corners and at the perimeter. Plantings account for about a third of the garden's area, giving it a freer, more open feeling than denser plantings would have.
Explore The Insider
Find your Brooklyn design inspiration

The result is reminiscent of a European courtyard, where the crunch of gravel underfoot is a familiar sound on patios and terraces. The fencing, imported from Belgium, is called hurdle or wattle and made of willow or hazelwood twigs. "It's unique and provides a different feel from most American gardens," Klausing said.
English laurel and scattered boxwoods, both evergreen, were chosen for year-round color. "The rest is a little bit whimsical and haphazard" by design, Klausing said, including hydrangea, azalea, and pots of iris, hostas and ferns. Boston ivy softens the brick wall next to the stairs leading down to the garden from the parlor floor.
A limestone patio, retaining wall and steps up from the lower level (top photo) give the garden "a little formality and structure," Klausing said.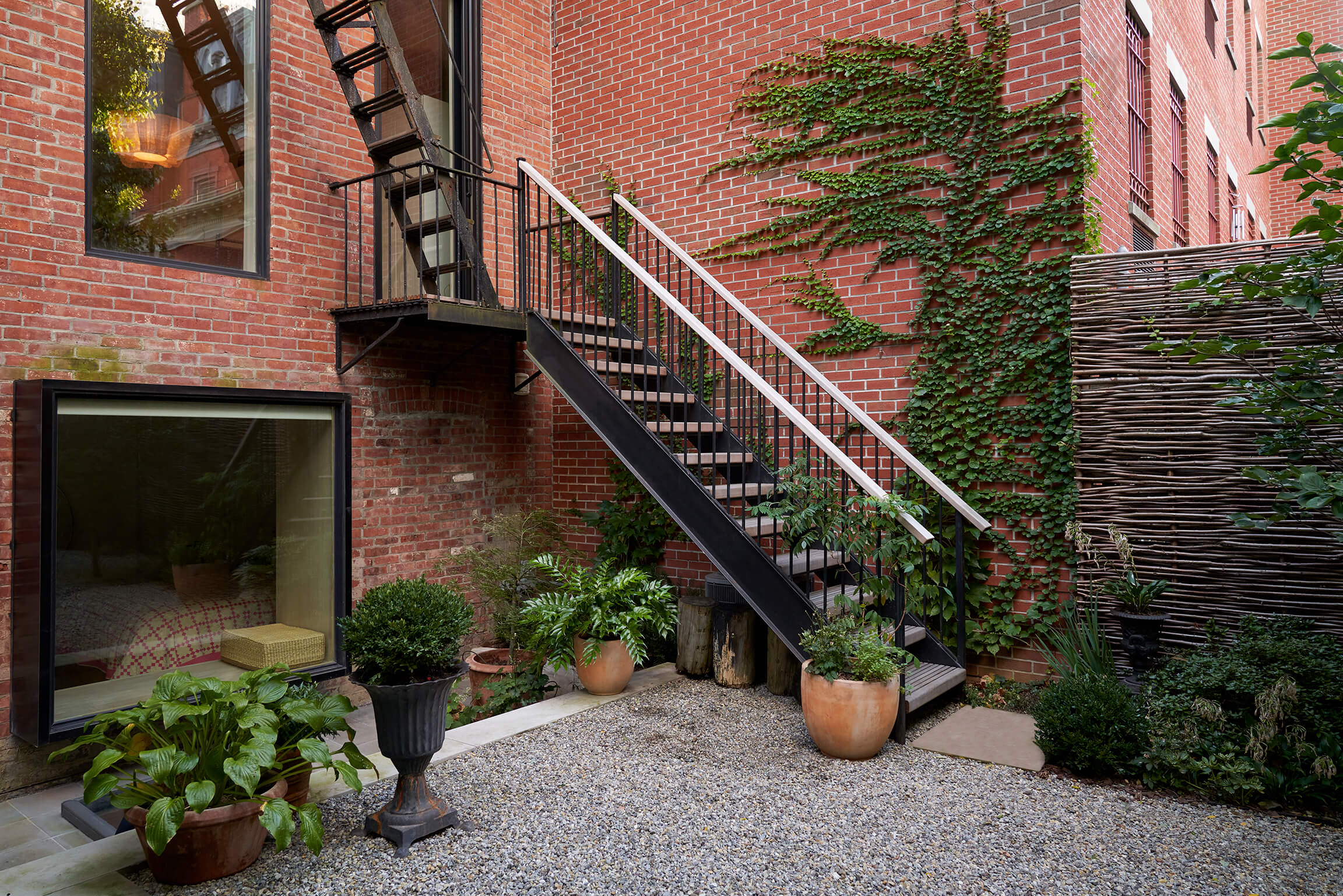 Brook Landscape added new cedar treads and a handrail to steel steps, an extension of the existing fire escape, to make it more refined and inviting.
An overhanging maple from a neighbor's yard helps create a sheltered feel at the rear of the garden.
There's a small food prep area with a sink right off the back of the house.
The landscapers used 3/8-inch Delaware pea gravel over most of the backyard's surface, laid on an underlying bed of compacted, rough-edged 3/4-inch gravel and landscape fabric. "That way you don't have a bunch of musky gravel," Klausing said.
Most plantings went into the beds at the edges of the patio. The dogwood tree near the foot of the stairs was planted directly into the gravel.
In designing the space, Klausing was mindful of creating open areas into which chairs and small tables could be moved as needed, "but you'd always have plants around you."
[Photos by Douglas Lyle Thompson]
The Insider is Brownstoner's weekly in-depth look at a noteworthy interior design/renovation project, by design journalist Cara Greenberg. Find it here every Thursday morning.
Related Stories
Got a project to propose for The Insider? Please contact Cara at caramia447 [at] gmail [dot] com
Email [email protected] with further comments, questions or tips. Follow Brownstoner on Twitter and Instagram, and like us on Facebook.