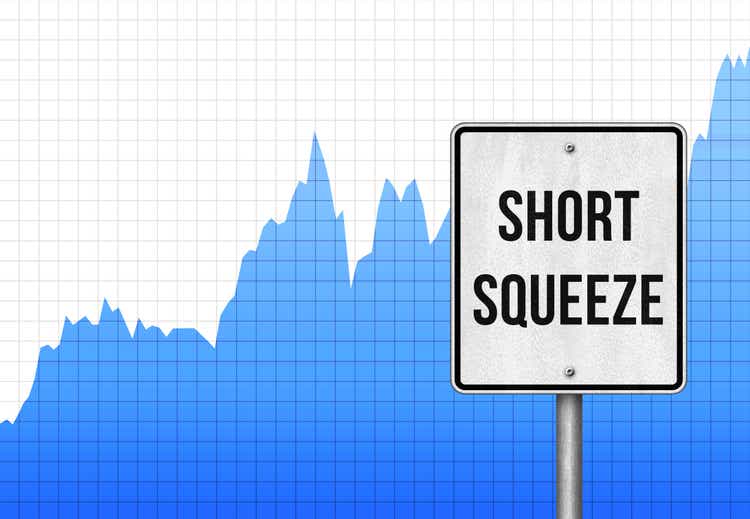 Meme stocks are back in action!
Crypto and tech have gotten crushed this year. Market volatility, inflation, recession fears, and more have investors pondering how best to make extra money, as many of their portfolios and 401ks have taken a hit. Now, the year's best-performing sector – commodities – is declining. So where else than a revival of the highly coveted, instant gratifying meme stocks to offset inflation? At least that's what many retail investors are after, hedging against the institutions that are said to be the cause of the rapid rise in meme stocks, Bed Bath & Beyond (BBBY) is leading the meme rally.
Meme Stocks 1 month Comparison (GME, BBBY, & AMC)

You Reddit! Bed Bath & Beyond, GameStop Corp. (GME), and (AMC) started this week as three of the most actively traded stocks. BBBY is up nearly 100% in August and over the last month +89.30%, while AMC is +53.63% in one month and GME +25.24%.
Historically, short interest is a poor metric for forecasting long-term performance, given that investors tend to short stocks because they are perceived to have poor investment fundamentals. But as I wrote in The Next GameStop,
"In a world filled with instant gratification and one of the most unique markets I've seen; we have been surrounded by stocks that outperformed and broke records in 2021, with key winners – if you're willing to roll the dice – in meme stocks. The definition of meme stock remains a topic of debate. They rose to the public eye because of social media platforms like Reddit and Wall Street Bets."
As retail investors flock to these popularly shorted stocks, the short squeeze takes effect, forcing bearish investors hoping for losses in these stocks to buy back shares at a higher price. "These types of extremely large moves are outliers, but they do happen time and time again. But most of the time, these exaggerated moves are short-lived, and the stocks tend to go back down," said Adam Sarhan, chief executive officer at 50 Park Investments. Retail investors' fear of missing out (FOMO) when it comes to these investments is what prompted me to create a screen like no other; a screen with a data-driven application that zeroes in on stocks with short squeeze potential.
Short Squeeze and Top Meme Stocks By Quant Rating
A short squeeze refers to an investor borrowing shares at what they believe is a premium price in hopes of the stock falling. The investor or short seller's goal is to buy the stock at a lower price after selling at the borrowed premium price. But, if the stock price rises instead of falls, a short squeeze can occur, which typically prompts panicked short sellers to exit their positions as quickly as possible by executing buy orders to purchase the stock, forcing the stock price to climb even higher. At the same time, new investors or retail investors like we've seen in the past during the Reddit Revolution may also start buying the stock. Either speculation or investment fundamentals prompt this buying, which drives the stock even higher.
A short squeeze is bad news for short sellers. One of Wall Street's former successful hedge funds is Melvin Capital. Retail investors 'squeezed' the life out of the investment firm, leading to its demise, but it proved beneficial for those on the opposite side of the coin. The key is knowing when to exit.
Because many of these stocks have poor investment fundamentals, you could lose all gains if you do not exit at the right time. The screen I created possesses Top Strong Buy Stocks With Short Squeeze Potential. Based on our quant ratings, the screen pairs Strong Buy stocks with short interest above 10% and share price appreciation. Because short interest tends to be a very poor indicator of stock price predictability and price appreciation, stocks with high short interest often have poor investment fundamentals. But that doesn't stop investors that want in on the action. So I created a tool to identify stocks with high short interest with solid investment fundamentals, which refresh daily.
Quant Rated Strong Buy Stocks With Short Squeeze Potential
The table below displays 18 stocks with short interest above 10%, and our algorithm is updated daily to ensure we do not miss any short interest data reported by FINRA. Updating our model daily also ensures that all quant data is near real-time.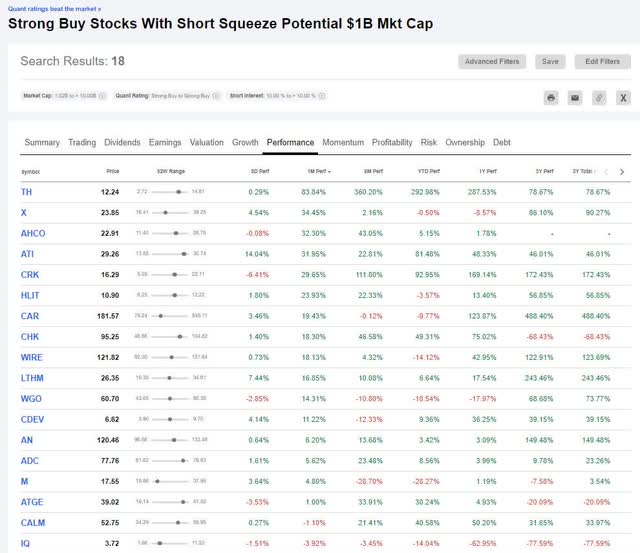 At the top of the list is Target Hospitality Corp. (TH), with a one-month performance of +83.83%, and US Steel (X) +34.45% for the same period. While TH and some of the other companies in this list are not as well-known as other meme stocks, our goal is a focus on stocks that possess solid fundamentals and are rated Strong Buys with short squeeze potential. Other notable names in the list include Avis Budget Group (CAR), Macy's, Inc. (M), AutoNation, Inc. (AN), and Chesapeake Energy (CHK).
Avis Budget Group's short interest is 13.85%. The stock is up 130.74% over the last year and possesses very strong factor grades, which rate investment characteristics on a sector relative basis. CAR's Profitability and Revisions Grades are a solid A, with bullish A+ momentum, indicating the stock has a tremendous outlook.
Avis Budget Group Factor Grades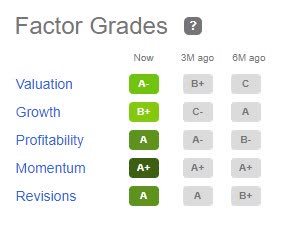 In the last 90 days, five analysts have revised their earnings estimates up, and zero have revised down. Trailing twelve-month revenue and forward earnings growth are strong and 69.57% and 28.17%, respectively.
Macy's is -36.19% YTD

Macy's is a strong buy quant recommendation and has a 10.15% level of short interest. Naysayers may dislike the stock in this environment because it is a traditional department store retailer. With consumer spending concerns and the consumer discretionary sector (XLY) -22.97% YTD, Macy's has also experienced a price decline. However, the company looks solid regarding growth and profitability and comes at an excellent valuation.

With a forward P/E ratio of 4.26x, the stock trades more than 70% below its sector peers. With a 2022 Q1 EPS of $1.08 beating by $0.26 and revenue of $5.35B beating by $14.32M, their plan for long-term growth and beating earnings expectations is at the forefront of their executive team's outlook.
"This robust broad-based performance is a testament to how Bloomingdale's team has evolved the product range to be relevant for new younger generations that are investing in both their wardrobes and their homes. At Bluemercury, the team continued to build on its momentum and posted another improved quarter. Comparable sales on an owned plus licensed basis were up 25.2%. This was driven by an increase in in-store traffic coupled with better-than-expected growth in private brands," said Macy's Chairman & CEO Jeff Gennette.
Chesapeake Energy Corp. is up 47.71% YTD

Chesapeake Energy could be a sleeper stock with 16.15% short interest, a YTD price increase of nearly 50%, and one year of +83.91%. Like many energy stocks, this stock has experienced substantial growth and profits, but its debt-laden history coupled with recession fears and falling commodity prices could spell trouble.
With solid factor grades, a strong buy recommendation, and trading at a relative discount, CHK may be a short squeeze stock to consider. Attractive on growth, profitability, and revisions, four analysts have revised estimates up within the last 90 days following excellent Q2 earnings results.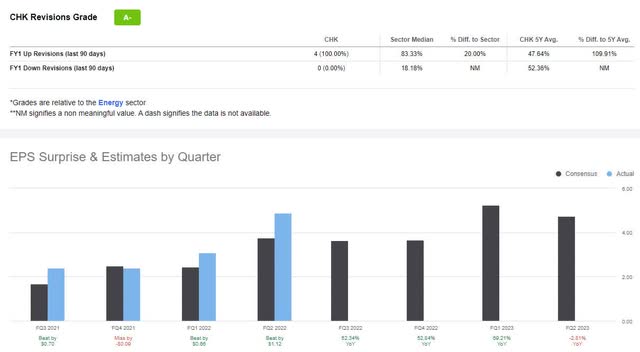 With an EPS of $4.87 beating by $1.12 and revenue of $2.79B beating by $22.40M, CHK is improving its business and portfolio. Despite fluctuations in commodity markets and geopolitical uncertainties posing headwinds for this stock, spiking inflation and recession fears have prompted investors to evaluate spending habits and demand for various commodities. CHK may see a decline in demand, mainly as it does not currently produce the in-demand liquefied natural gas (LNG). Still, the company is looking for an LNG advisor who could deliver positive results.
Only time will tell if this article's strong buy stocks will prove fruitful for a short squeeze. But if you prefer less risky investments, consider Top Stocks by Quant, a springboard for further investigation into many companies with strong ratings and grades, where you can quickly see whether a stock is strong or weak.
Should you buy meme stocks?
Before jumping on the bandwagon for fear of missing out, consider evaluating your stock pick(s) by creating a Seeking Alpha portfolio to help you compare good and poor stock characteristics. Each stock's features, including valuation, growth, profitability, momentum, and EPS revisions, are assigned a grade of A through F, to help point out potential losers in a portfolio that can save you from catastrophic losses. Reviewing Seeking Alpha's Quant System below, you can see that these picks have substantially outperformed the S&P 500 over the last 12 years, using backtested data.

If you own or are considering buying some of the stocks mentioned in this article, evaluate and compare their ratings and factor grades. Buying meme stocks is not for the faint of heart, as evidenced by BBBY, GME, and AMC's rally to fall this week – an indication of how volatile the price swings can be. As an alternative, consider the strong buy stocks with short squeeze potential CAR, M, AN, X, TH, and CHK. They still come with risks, but the quant system has identified these stocks as having a high level of short interest that you may be comfortable holding for a more extended period in anticipation of a squeeze. Whether you're comfortable with risk, a short seller, or if you're in with the short squeeze crowd, you better be ready to move quickly! Good luck.