General news of Wednesday, December 8, 2021
Source: www.ghanaweb.com
2021-12-08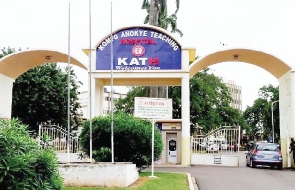 Komfo Anokye Teaching Hospital (KATH)
some large hospitals in Ghana are struggling with bed shortages
KATH refused to admit a baby due to lack of space
Hospital begins investigation into the death of the seven-month-old baby
A seven-month-old baby has died after being rejected by Komfo Anokye Teaching Hospital in the Ashanti region for lack of space.
According to Asaaseradio.com, the baby was said to have been referred from Asokwa Children's Hospital for medical care.
On the issue, KATH's PR officer Kwame Frimpong told the news portal that although KATH had no evidence of the baby's referral from Asokwa Children's Hospital, an investigation into what led to the baby's death was beginning .
"We heard about this allegation too, and when we checked with our pediatric emergency room, the feedback was that they had no evidence that Asokwa Children's Hospital called the department to arrange a referral.
"As a result, our quality unit was asked to involve all parties involved, including the bereaved, in determining the circumstances under which the incident took place," he told Asaaseradio.com.
The incident occurred on Friday, December 3, 2021.
In an interview with Asaase, the child's mother wondered why the hospital would not care for the child due to lack of space.
She added that if the KATH hospital had taken care of the child, her child would not have died.
However, she called on the government to eliminate the threat of bed shortages in the hospitals.