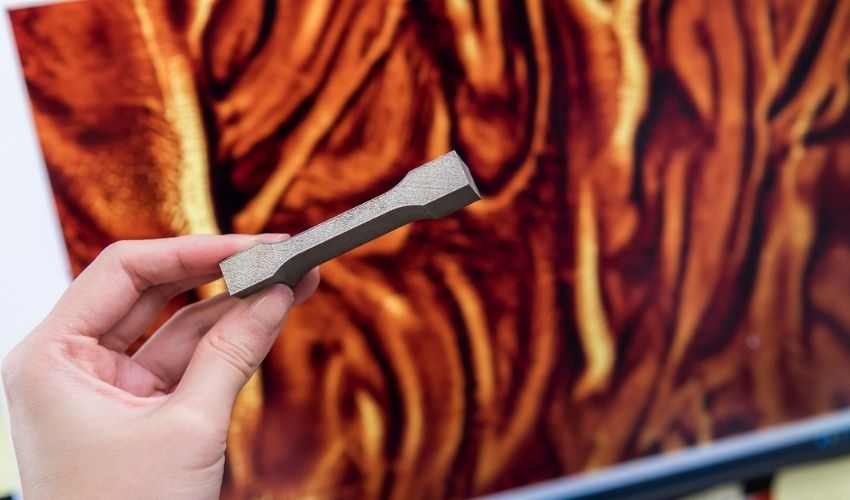 Scientists at the City University of Hong Kong (CityU) have made a breakthrough in the design of a titanium alloy. Thanks to additive manufacturing (AM), they were able to successfully produce an alloy with superior mechanical properties. The project arose out of modeling which shows that while it is generally believed that increased uniformity of alloy components is ideal for preventing brittleness, in fact some degree of heterogeneity (diversity) could actually create unique microstructures that enhance the properties of the Improve alloy. Based on this idea and through laser powder bed fusion together with stainless steel and titanium alloy powders, the scientists succeeded in creating a stronger and lighter alloy.
The research team, led by Professor Chain-Tsuan Lieu of the Hong Kong Institute for Advanced Study (HKIAS) at CityU, published an article in the journal Science "In-situ design of an advanced titanium alloy with concentration modulation through additive manufacturing"In which they outlined their results. Although AM is most often considered for its advantages in terms of the geometrical design capabilities of parts, in this case the team explored how it could be used to not only use materials, but also design them with better properties.
Or like Dr. Tianlong Zhang, postdoc in the Department of Materials Science and Engineering (MSE) at CityU and one of the authors of the paper, stated: "The unique properties of additive manufacturing give us more freedom in designing microstructures. Specifically, we have developed a partial homogenization process in order to use 3D printing to produce alloys with concentration gradients in the micrometer range that cannot be achieved using conventional material production methods. "
How did you do that?
Essentially, the process involved melting and mixing two different alloys, such as titanium alloy powder and stainless steel powder, using Laser Powder Bed Fusion (L-PBF). More specifically, they used Ti-6Al-4V (a titanium alloy) and a small amount of 316L stainless steel to create micrometer concentration modulations of the stainless steel elements within the titanium alloy. This contributed to the transformation of the material, giving it higher tensile strength with uniform elongation and excellent work hardening properties.
The team controlled certain printing parameters, like laser power and scanning speed, which allowed them to create the uneven composition of the elements, but in a more controllable manner. The resulting alloy could certainly be called a success. Not only is it 40% lighter than conventional stainless steel, yet it is incredibly strong. If you want to learn more, you can buy the study HERE or read the CityU press release HERE.
What do you think of this titanium alloy? Let us know in a comment below or on our Linkedin, Facebook and. to know Twitter Pages! Don't forget to sign up for our free weekly newsletter here, the latest 3D printing news delivered to your inbox! You can also find all of our videos on our YouTube channel.
* Cover picture credits: City University of Hong Kong