Giannis Antetokounmpo has quickly solidified himself as one of the best players in the NBA. The Milwaukee Bucks forward is one of few people to win back-to-back MVPs. In addition, his heroic championship conquest two seasons ago earned him tons of praise. Likewise, the superstar also signed a $228 million dollar extension with the Deers. However, behind all the success, the Greek Freak is a young 28-year-old man. Recently, he let his youth get the better of him after sharing his feelings for his girlfriend with the public.
Antetokounmpo and his girlfriend, Mariah Riddlesprigger have been together for almost eight years. Over the years, the duo has arguably become one of the most popular couples in the NBA. Their team has helped the city of Milwaukee, giving back to the community by raising over 38000 dollars according to Riddlesprigger's Instagram.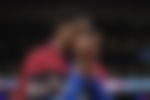 However, long-time Giannis Antetokounmpo fans know the couple for their humorous relationship. Notably, the 2021 Finals MVP once exposed her for an intimate gift she gave him. Now, after embarrassing her, it seems the Greek Freak had to be next in line. And that is just what happened.
ADVERTISEMENT
Article continues below this ad
Giannis Antetokounmpo must really love his girlfriend
There is no doubt Antetokounmpo and Riddlesprigger are head over heels for each other. The two are constantly pushing each other to give their best. Notably, the Bucks forward even gave his girlfriend the motivation to launch her own clothing brand, 'Sincerely Mariah'. Recently, the mother of two posted a picture on her Instagram. And it seems Giannis Antetokounmpo got too excited looking at the beauty of his girlfriend.
DIVE DEEPER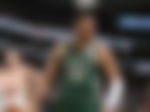 The six-time NBA All-Star shared a series of intimate messages. However, what he might not have realized is the entire world could see it. In one of his comments, he wrote, "Put the kids to bed and cmon". Likewise, NBA Twitter didn't miss the big spectacle.
Gotta respect Giannis as one of the horniest players of the modern era, especially considering it's just all directed to his girl and not involving any scandals. generational level of horny

— Michael Ognar (@michaelognar) January 18, 2023
ADVERTISEMENT
Article continues below this ad
Surprisingly, this isn't the first time the Greek Freak has got a little too freaky. A few years back the former DPOY went on an Instagram live to answer a few fan questions. After savagely saying Orlando Magic center Mo Bamba is no match for him, he would dive into something crazy. His fans asked whether he indulges himself in Fortnite, a popular battle royale game. While saying he doesn't play the game, Antetokounmpo followed his response with "I just foreplay at night".
ADVERTISEMENT
Article continues below this ad
Watch This Story: Despite Long Injury, Stephen Curry is Eclipsing LeBron James, Giannis Antetokounmpo, and Luka Doncic
It seems Riddlesprigger understands his sense of humor and the couple continues to make each stronger. Moreover, it proves one thing, Giannis Antetokounmpo truly is the Greek Freak.