Ontario Secretary of Long-Term Care Rod Phillips announced Thursday that peopleCare has received approval to build a brand-new, 160-bed long-term care home in Stratford.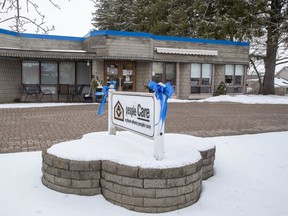 content of the article
The Ontario Ministry of Long Term Care has given peopleCare the green light to build a brand new 160 bed long term care home in Stratford.
content of the article
In a virtual announcement on Thursday morning, Minister Rod Phillips joined Perth-Wellington MP Randy Pettapiece, Stratford Mayor Dan Mathieson and peopleCare CEO Brent Gingerich to share the news that many in the area of ​​Stratford since flooding closed the peopleCare Stratford building on Mornington Street in 2015.
"Many will remember the former PeopleCare facility in Stratford, which was closed due to a flood in 2015," Pettapiece said. "It was devastating for everyone involved. In the months and years that followed, one of the most frequently asked questions that came to my office was, "When will peopleCare reopen?". It's taken some time, but today I'm happy to announce that peopleCare is reopening. It will be rebuilt in a new facility stronger than ever."
As part of the provincial government's $6.4 billion investment that will add 30,000 new beds and approximately 28,000 upgraded beds in new and existing long-term care homes across the province, peopleCare Stratford's new facility will add 100 new beds in addition to 60 approves upgraded beds from the previous Stratford nursing home, Phillips said.
"Today's announcement of 100 new beds, and of course the 60 that were in place to create a new 160-bed facility, is a much-needed boost for our seniors in our community," Mathieson said. "It continues to put us in a very positive position to care for our most vulnerable and our elderly."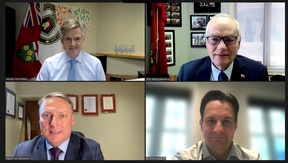 Discussing the proposed development – planned for a plot of land between Dickens Place and Hyde Road behind the Windmill Gardens retirement home in Stratford – Gingerich said the long-term care home will be designed and built as part of a "campus of care".
content of the article
"We hope in future phases to be able to offer independent living options in Stratford retirement housing, as well as potential other seniors, to provide the full spectrum of senior living and care," said Gingerich.
The new beds are designed to help ease Stratford's long waiting list. Including the 60 beds in the previous PeopleCare home, there are currently 233 licensed beds in Stratford, while 675 people are waiting for spaces to become available, according to the Southwest Health Line as of December 15, 2021.
There are another 474 licensed long-term care beds across Perth County, but 475 people are waiting for places. There are a total of nine nursing homes in the region, excluding peopleCare Stratford.
Gingerich said peopleCare has already begun working with city planning staff and expects construction of the long-term care home to begin this fall.
In addition to the beds approved for the new PeopleCare home, Phillips said the province also added 66 new beds and 62 upgraded beds at Kingsway Lodge in St. Marys, three new beds at Knollcrest Lodge in Milverton and 128 upgraded Beds in West Perth Village (Ritz Lutheran Villa) in Mitchell have been approved as part of an effort to strengthen Ontario's long-term care system and add capacity.
"In terms of long-term care regulation, there are really three areas of focus: improving staffing and care, strengthening accountability, enforcement and transparency, and building modern, safe and comfortable homes across the province. … Our government is investing $6.4 billion in the largest nursing home construction program in Canadian history. … We currently have 231 projects underway with 21,000 new beds … and 16,000 upgraded beds in development, which means we're more than 70 percent of our target of 30,000 new beds and 28,000 upgraded beds," Phillips said.