GURUGRAM: It has been nearly a week since deputy commissioner Nishant Kumar Yadav appointed 12 duty officers to shift anyone living on the footpath or without a home to night shelters, but little seems to have happened on the ground.
A reality check by a TOI team has revealed that several homeless people are still sleeping on the pavements at various chowks. They say they are unaware of any shelter.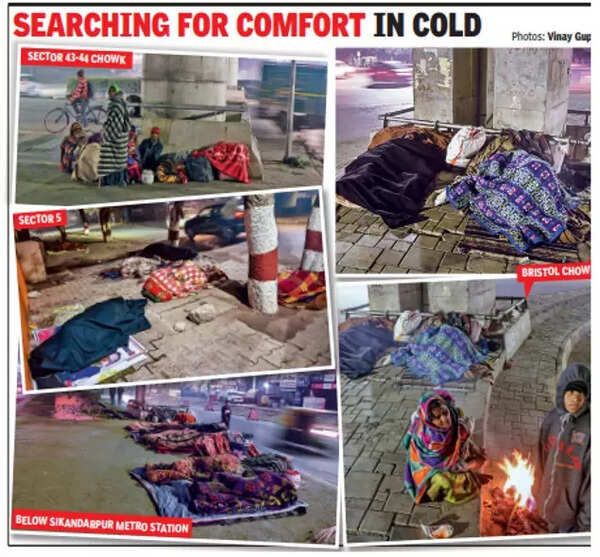 During a visit to a night shelter in Rajiv Chowk, TOI found only one inmate-a youth in his 20s from UP's Shamli in the city for a physical examination with the BSF. He said he came to know about the shelter from traffic cops and entered after showing his Aadhar card. The shelter's night duty officer said they ask for an Aadhaar card as ID proof from people but don't deny entry if someone doesn't have it. The DC had said even people without IDs should get a place to sleep.
"I showed my Aadhar card and got an entry. The helper gave me two blankets, one to cover myself and another to place on the ground. The night shelter is smell-free and clean. I also got a charging point for my mobile phone ," said Akash, the shelter inmate.
Wazir Singh, the night duty officer, asserted the shelter has been following the DC's orders. "We only ask for ID proof. If someone provides it, we write down the details. If someone does not, we allow them in too. We are not stopping any entry."
When Akash reached Gurugram on Tuesday night, an auto driver took him to a hotel charging a high fare. "But I know even drivers get a cut from what we pay at hotels. So, when the traffic police suggested I stay at the night shelter at Rajiv Chowk, I came here," he said.
However, several hundred continue to sleep on the divider at Sector 43/44 Chowk, Bristol Chowk, Rajiv Chowk and near the Sikanderpur metro station.
"I have been in this city for five years, and even a hut costs Rs 2,000-3,000. I hardly earn Rs 100 by selling toys and balloons. During the night, I sleep on the footpath. A man has donated me two blankets, " said Dhander Singh (58), a migrant from Uttar Pradesh, currently living on the divider at Sector- 43/44 Chowk.
Asked about the night shelter and the team formed by the government, he said no one from the government or local administration approached any of the people suffering the cold nights on footpaths.
The minimum temperature of Gurugram was 5.8 degrees Celsius, 0.9 notches below the normal this season. IMD has predicted dense to very dense fog conditions from January 14.
TOI found Maya Devi (28), a migrant worker from Rajasthan, burning wooden logs on the divider at Bristol Chowk to keep herself and her 14-month-old child warm. She and her husband, Bablu, do odd jobs and sell toys in the city to earn a living for their family. "We are daily wagers; we do not face any problem during the day as it's sunny, but we suffer harsh conditions at night," she said.
The couple also stressed that no one has told them anything about shelters.
Currently, the city has 10 functional night shelters, including four permanent ones at Bhim Nagar, Kadipur, Darbaripur and Kanhai. There are also three portacabins and three more makeshift shelters at community centers in sectors 4, 15 (part 2) and 47.
Recently, DC Nishan Kumar Yadav announced that the night shelters at the railway station and Bhim Nagar would become women-only shelters. The inmates would get dinner and morning tea, and there would be proper police deployment to ensure their safety.
"To check the conditions, I will visit the spots where homeless people sleep on dividers. I have also directed the 12 duty officers to shift anyone living on the footpath or without a home to night shelters," DC Nishant Kumar Yadav told TOI on Wednesday .
.