The examination schedule for the NIOS D.El.Ed exam in the fourth semester has been revised. You can find the revised schedule here.
The National Institute of Open Schooling (NIOS) has revised the deadline for the D. El.Ed (Diploma in Elementary Education) exam for the fourth semester. The exam was originally scheduled for February.
The D. El.Ed exam was scheduled for February 14th and 15th. It will now take place on March 15th and 16th.
The hall tickets for the exams are uploaded to the official website nios.ac.in or dled.nios.ac.in one week before the exam
Revised schedule of the fourth NIOS D.El.Ed exams
Learning in arts, health, physical education and work education in elementary school: Friday, March 15th; Timing – 2:30 p.m. to 5:30 p.m.
Learning Social Science in Upper School or Learning Science in Upper School: Saturday, March 16; Timing – 2:30 p.m. to 5:30 p.m.
Check the official notification here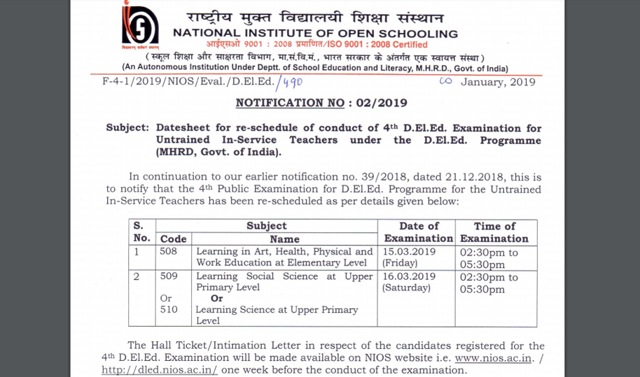 Close story
.