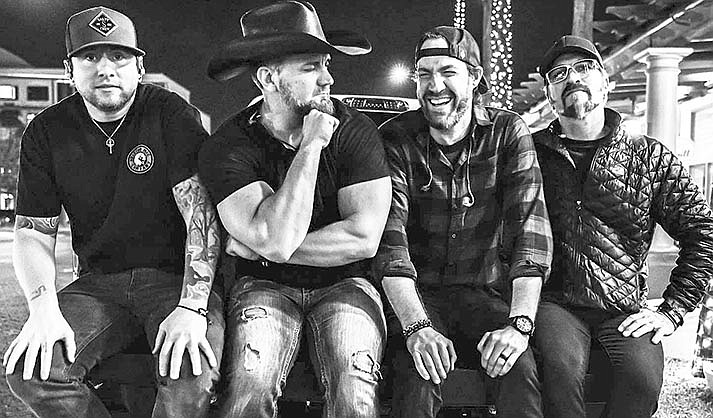 This New Year's Eve, we're hosting the Great New Year's Eve Black and White Party! Besides the great slot machine and Blackjack action, we'll have Wheel Spins each hour on the floor 4pm-10pm for a chance at $2,000 cash. At 11pm, the wheel spin top prize increases to $123,000! We're hosting TWO musical events: one, a party in the Gathering, features Banda la Sonadora with special guest Grupo Conceptos, 8:30pm-1am. Doors open for this event at 8pm. Tickets are $30, and available at Hunt & Gather, our Gift Shop. The second event is a party in the Dragonfly featuring David Voss & Big Country. This show is 9:00pm-1am, with doors opening at 8pm. When the clock strikes midnight, we will top off the festivities with a grand Fireworks show! Don't miss the fun! Black & White attitude encouraged.
10-12 Lounge
910 Main St, Clarkdale
928-639-0800
1012Lounge.com
Thurs 12/29, 5pm Livas & Morgan
Sat 12/31, 8:30 Toucan Eddy/$10 cover
Tues 1/3/2023 5pm Becky Dahlke
apotheca
Next to Synergy through Herbs store – 2301 W. Highway 89A, Suite 105, West Sedona. 928-325-4080
SedonaApotheca.com
Every Friday and Saturday – open till midnight. Reserve seats online.
Dragonfly @Cliff Castle Casino Hotel
555 Middle Verde Road, Camp Verde
928-567-7900
Cliff Castle Casino Hotel is a No Smoking casino; we do have a smoking area near the front of the casino.
Live music shows each Friday and Saturday. Shows start 9 pm Doors open 8:30 pm
Fri 12/30, Hit Squad 17, Variety
Sat 12/31, David Voss & Big Country Country/Variety
The Gathering
Ultima Dia Del Año (New Year's Eve), featuring Banda La Sonadora and Grupo Conceptos. Saturday, Dec 31, 8pm-1am; Doors open 7pm. Admission $30.
the hub
525B Posse Ground Rd., Sedona
Fri 12/30, 6 PM, Heart & Soul: A Night of Consciousness Through Music featuring Damiyr, Grant of Prezence, John Dumas, Niko Light and Kindred Hearts.
Main stage
1 S Main St, Cottonwood
929-202-3460
mainstageaz.com
Wed 12/28 Not Your Grandma's Bingo 7PM
Thurs 12/29 Happy Hour Music/Beer School 3PM/7PM
Fri 12/30 Karaoke 9PM
Sat 12/31 New Years Eve Party 9PM
Mooney's Irish Pub
671 AZ-179, Sedona
928-282-2331
mooneysirishpubsedona.com
Thurs 12/29 Karaoke by AllStar (9pm-1am)
Fri 12/30 Thunderhorse (8:30pm-12:30am)
Sat 12/31 DJ Split Cell (8:30pm-12:30am)
Oak Creek Brewing Co.
2050 Yavapai Drive, Sedona
928-204-1300
OakCreekBrew.com
Fri 12/30 Sugar Moon (6-9pm)
Sat 12/31 The Bo Wilson Incident (7-11 pm)
Sun 1/1 Mike Wade (3-6pm)
Old Corral Bar
11375 E. Cornville Road, Cornville
(928) 649-9495
Sat 12/31 ~ New Years Party with Aces N Eights 8 pm-midnight
Stay Tuned for EXCITING NEWS & BIG HAPPENINGS in 2023!!
Vino Di Sedona
Wine & Beer Store/Bar/Kitchen
2575W SR 89A
West Sedona
928-554-4682
VinoDiSedona.com
Wed 12/28 Paint Along For Fun 11:30 am-2 pm; Rick Busbea, "Jukebox" Rock & Country 5-8 p.m
Thurs 12/29 Open Mic hosted by Dan Rice 5-9 pm
Fri 12/30 Beatles Night w/ Tommy "Rocks" Anderson 6-9 pm
Sat 12/31 Wine Tasting 3-5:30pm; The Doug Johnson Band, Rock 8-12
Sun 3/1/2023 KB Bren, Acoustic Rock 5-8
MUSICIANS
Christy Fisher
Thurs 12/29 : The Hilton Resort- Sedona 7-9 pm
Sat 12/31 – The Potato Barn- Scottsdale 1-4 pm
Sat 12/31- Scottsdale Cpuntry Club 6-9 pm
Tues 1/3- Page Springs Cellars – Cornville 3-6 pm
Ed Cooper
12/28 Arabella 5-8 pm
Lyndsay Cross
Wed 12/28, Salt Rock at Amara Resort, Sedona, 6-9 pm
Thurs 12/29, Low Places Bar & Grill, Camp Verde, 7-9 p.m
Fri 12/30, Peddler's Biergarten & Haus, VOC, 4-7 pm
Sat 12/31, Decanter Tasting Room, VOC, 8 pm-midnight
Toucan Eddy
Thurs 12/29, 6 pm at Main Stage in Cottonwood