Mira Kapoor swears by eating clean and healthy, her many Instagram posts and videos are proof. In keeping with the same, the 28-year-old recently took to the photo-sharing app to share a picture of 'haak saag', a Kashmiri leafy green dish, that looked delectable. "Haak say in bed. #winterdelight" Mira captioned the post.
What is haak saag?
Haak saag is a famous dish of Kashmir, where haak in the local language means leafy greens and saag is a dish made using them. "Locally, haak saag is a dish made with collard greens as this leafy vegetable belonging to the cruciferous family is cultivated on a large scale in Kashmir. Other leafy greens can also be used to make it, such as kohlrabi greens giving monji haak, radish greens giving mujj haak and dandelion greens giving vopal haak," said Garima Goyal, a registered dietitian.
Why should you have haak saag in winter?
Goyal told indianexpress.com that it is a "tasty, flavourful, simple, light, healthy and nutritious dish possessing a lot of health benefits".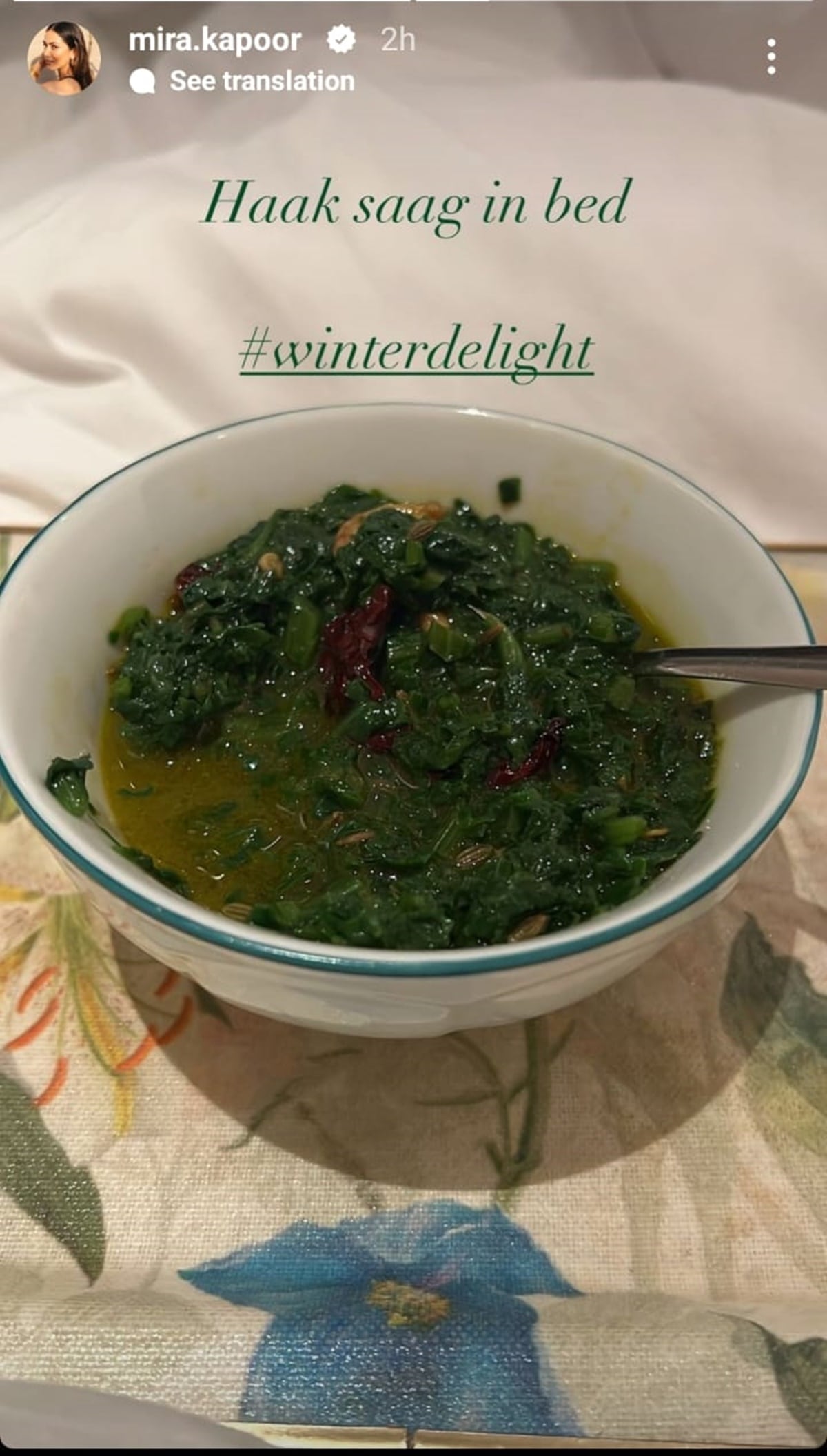 Mira Kapoor enjoys a bowl of Haak saag (Source: Mira Kapoor/Instagram Stories)
She also listed down the following benefits
Poor man's food This dish is considered as a poor man's food as it uses leaves of those vegetables which otherwise would be discarded.
May aid in cancer prevention – According to Goyal, collard greens or haak contain sulfur compounds called glucosinolates which aid in preventing or delaying the growth of cancer cells in the body. "These compounds have anti-carcinogenic effect against various types of cancer such as breast, oesophagus, prostate, pancreas etc," she said.
Good for skin and hair Skin and hair need vitamin A or beta carotene for their growth and sebum production. Collard greens is a rich source of vitamin C which brings vitality to skin and hair. "Also, those having hair loss due to poor haemoglobin levels can also be benefitted by consuming this iron-rich vegetable," Goyal added.
bone health Like all other leafy greens, collard greens are a good source of vitamin K, which improves the calcium absorption in the bones and helps against osteoporosis.
mood elevator A neurotransmitter called choline is present in collard greens which helps to sleep better and alleviate mood.
Gut-friendly – The high amounts of water and fiber content in these leafy greens make it a good aid for constipation and helps to cleanse the digestive tract.
Process
According to the dietitian, the best way to consume these greens is by steaming them to retain the glucosinolate content.
*Haak leaves should be washed thoroughly after cutting off their stem. Then, boil water in a pressure cooker and add mustard oil, asafoetida, salt, baking soda, dry red chillies and green chillies.
*Baking soda is added to preserve the vibrant green color of leafy greens and asafoetida gives a characteristic taste and aroma to the dish.
*Add haak leaves and stir thoroughly in water until they turn soft, on a low medium heat.
*Pressure cook for 3-4 whistles, and adjust the consistency by adding water or drying it up. Serve hot with rice or chapati.
How much to have
Daily serving of haak saag or any other green leafy vegetable is a good option but people on blood thinners such as warfarin should take caution while consuming this vegetable or any other leafy green that is a rich source of vitamin K. "This is because this vitamin plays a significant role in blood clotting," Arora noted .
📣 For more lifestyle news, follow us on Instagram | Twitter | Facebook and don't miss out on the latest updates!
.