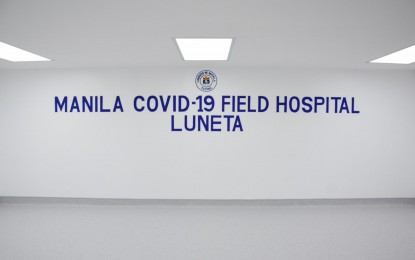 MANILA – Bed occupancy for Covid-19 patients in Manila fell significantly to just 13 percent with only 65 beds in the city's six district hospitals as of December 7th.
The data reflect a 56 percent decrease from the 23 percent bed occupancy rate with 116 occupied beds on November 7th.
The city's Covid-19 field hospital in the Quirino grandstand now has 12 occupied beds, or just 3 percent of the 344 available beds, reflecting a 25 percent drop in occupancy a month ago.
The 14 Covid-19 quarantine facilities in Manila currently have a utilization of zero percent.
The city's six district hospitals include Ospital ng Maynila, Ospital ng Sampaloc, Jose Abad Santos General Hospital, Gat Andres, Ospital ng Tondo, and Sta. Ana hospital.
On Tuesday, the capital recorded 96 active Covid-19 cases after reporting 12 new cases.
The Sampaloc area of ​​District 4 had the most cases with 14 active cases, followed by Sta. Cruz area at 13.
Seven new restores were reported, bringing the total number of restores to 88,544.
The total number of people who have succumbed to the disease is 1,723 with no new deaths reported.
In the meantime, the city is stepping up its vaccination campaign by allocating more accessible vaccination sites within the community.
As of Tuesday, 5 p.m., the city government has already administered a total of 2,919,399 doses of the Covid-19 vaccine, including 1,399,246 as the second dose.
A total of 164,743 minors aged 12 to 17 years with or without comorbidities were vaccinated in the city, 57,884 of which have already been fully vaccinated.
As of Tuesday, a total of 56,552 Covid-19 booster vaccinations had been administered in the city. (PNA)