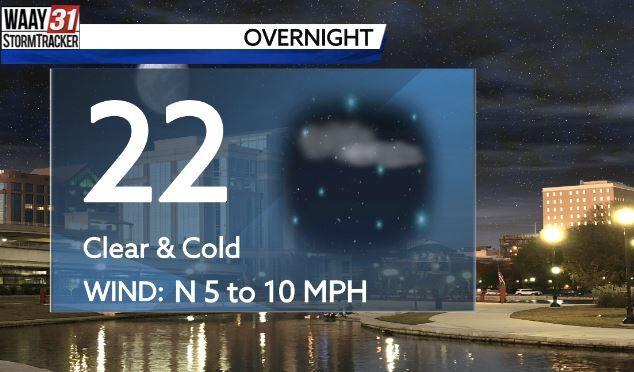 An unseasonably cool day in northern Alabama will be followed by another brutally cold night.
After sunset, clear skies as temperatures drop back into the low 30's with overnight lows in the 20's! Wind chill levels won't feel teenage again, but we're still about 10 degrees below what we typically see on a January night.
Sunday's forecast is almost a copy and insert from today, but the biggest difference will be the more seasonal highs we'll see into the afternoon. The highs will suck around the top 30s and low 40s before the sun goes down. Clear skies will once again have us needing the heaters to get to bed with temperatures dropping into the 20's overnight.
Dry conditions and seasonal temperatures will begin on Monday, but a chance of rain will begin as early as Monday night. We keep our eyes on a system that appears to be further south and the rain misses us completely on most models, but there's a chance that might change. If we see rain from this system on Tuesday, we expect it to be fairly steady as downpours with only about 0.1″ to 0.25″ of precipitation.
.