Article content
It's a win-win for local kids.
display
This ad hasn't loaded yet, but your article continues below.
Article content
The fall / winter semester marked the third bed construction at Bev Facey High School for the local non-profit organization Sleep in Heavenly Peace Strathcona. Specifically, attended a GOALS class, which is a work-integrated learning program that teaches skills related to the building trade.
"The biggest benefit is that students have the opportunity to consolidate all of their skills. You can make thousands of cuts and thousands of measurements. This is your chance to work on something very big. If there are 600 or 700 parts and each part has 12 operations, the kids learn a lot, "explained teacher Steve Woodard, adding that this type of volunteering fits well into the curriculum. "This is the perfect project. We have a number of production projects that kids need to do and it's really hard for schools to do that in a meaningful way. "
Under the motto "In our city no child sleeps on the floor", the non-profit organization builds and delivers beds to children between the ages of three and 17 years. While it offers public beds for everyday residents all year round, donations from the group help find material for school-run bed structures.
It took 13 students about 10 hours to build 20 beds.
Students learned to plan work schedules, put things together quickly, work in groups, and be patient. Everyone agreed that they enjoyed working on this project because it made them feel good about giving back.
"I think children shouldn't have to sleep on the floor. You will be tired, sore and unhappy, "said the student Isabella Lorentz.
display
This ad hasn't loaded yet, but your article continues below.
Article content
"I feel really good helping people. I really enjoy giving back to the children in our community, "added Faith Zerebeski.
"I know the floor is hard to sleep and kids shouldn't have to," said Alexis Foster. "A good thing can change a person's life."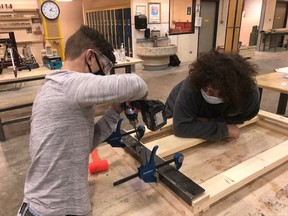 Bed construction remains something that students look forward to every semester.
"The commitment is great. When they know right away that it is for someone else, it is important, "noted the teacher. "They don't just meet a need; Your job is given to someone else and you have to do a good job. "
With three bed constructions in the books, of which a total of 120 beds, the school is involved in a fourth bed construction this semester. The school hopes to continue its partnership with the nonprofit organization in the years to come.
"The bed-making program helps to raise our youth's awareness of local poverty and its effects on people. It's really great how children can give back to other children, "said Mark Parr, president of the Sleep in Heavenly Peace chapter. "You take a leadership role to do something about it and take action."
Bev Facey's newest build was made possible by donations from Navigator Financial Services, Sherwood Park Rotary, and County Clothes-line.
After two successful bed donation drives in December, Sleep in Heavenly Peace announced that 75 complete bed sets could be delivered to children in need in 2022.
"We bind the community not only through monetary donations, but also through donations of bed linen. We really get the community involved in what we do for the children at Sherwood Park, "Parr said.
display
This ad hasn't loaded yet, but your article continues below.
Article content
On average, it costs the nonprofit $ 350 to donate a single bed, including a mattress and linens, and $ 700 to donate a bunk bed.
During this semester, beds are also being built at Fort Saskatchewan High.
"In winter, these school buildings are crucial for us to make beds for children," Parr said. "And more schools want to take part in this program. The need is there and the need is there. "
A few more public beds will be built in the spring as soon as the warm weather returns.
To learn more about the non-profit, including ways to volunteer, donate, or apply for a bed, visit shpbeds.ca.
twitter.com/LindsayDMorey