Beds in hotels, home stores and in magazines are always styled beautifully, with dreamy layers and thick, fluffy duvets and pillows.
Recreating that look at home isn't easy unless you know a few tips and tricks.
So when TikToker @ash_tho shared a video tutorial on how to get what she calls "hotel good" we made sure to take notes.
READ MORE: The Block winners Mitch and Mark share their bed styling secrets for the ultimate sleep sanctuary
And it seems we're not the only ones interested in making our beds look like a sleep sanctuary, because Ash's TikTok video has been viewed 1.8 million times. You can watch how she does it in the video above.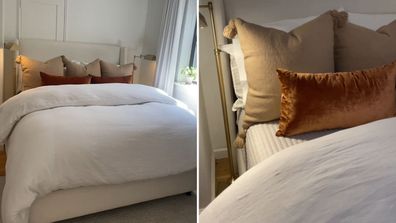 Ash begins making her bed by tucking the corners of her top sheet and quilting in for "clean lines".
"I start by tucking in the sides but I leave the bottom out. Then I pull the part on the side of the bed straight out towards the end, put my arm in the corner, fold and lay it all flat and tuck it under. This makes sure everything else on top lays flat," Ash explained in the video.
READ MORE: Bedhead ideas and inspiration to suit any design style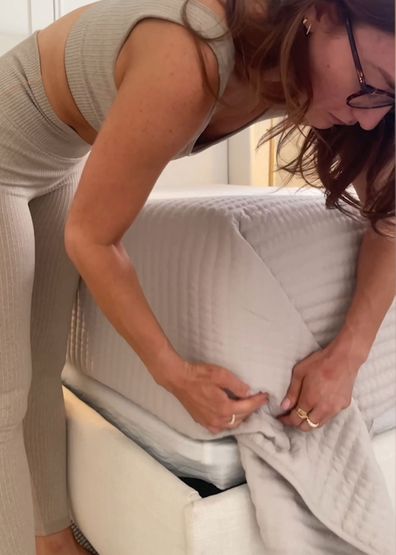 Now it's time for the duvet and the part we all want to know, what is the secret to getting the "extra fluffy cloud-like look" with our duvets?
According to Ash it's two duvets in the one cover, which sounds logical but potentially exhausting to execute.
"Honestly if I thought I wouldn't roast I'd stick a third one in there," said Ash, who clearly likes a thick, heavy quilt on her bed.
Then Ash puts the duvet on the bed and folds it half way down to make space for pillows.
READ MORE: Aussie mum shares her clever bed making hack on TikTok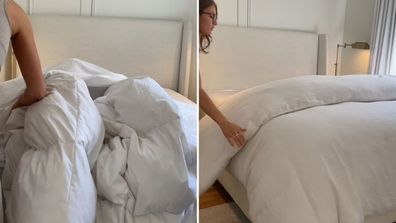 Speaking of pillows, Ash revealed she makes them look full and fluffy by putting king size pillows in queen size covers.
She continues styling the top section of the bed by adding three square cushions in contrasting colours, and two smaller rectangle pillows in velvet in front of that.
READ MORE: Koala has launched its first-ever homewares range and it's both stunning and sustainable
While some of the viewers who watched Ash's video thought two duvets would be too hot for sleeping, many were thrilled to know the secret to getting the fluffy look.
"Thank you! I'll be stuffing my duvet with another comforter," a woman commented.
InPictures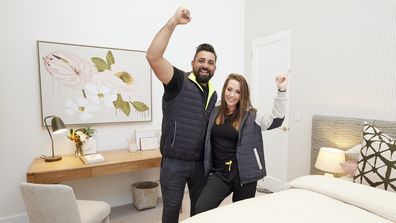 Ronnie and Georgia's Guest Bedroom
'My favorite room on The Block so far'
ViewGallery
"Yes that's what we do when we style beds. Every time you see a fluffy bed. That's what's going on," one person commented.
"Yes I always wondered how Macy's [store] displays looks sooo full and opened it to find three inside the duvet cover," another wrote.
If the thought of a quilt and a duvet cover with two duvets inside sounds too hot for you (though given the cold weather lately it could be very cosy), you could always sleep with just the quilt and only use the duvet for extra chilly nights . Or skip the quilt completely.
READ MORE: Everything you need to know about choosing the right doona
While Ash was full of bed making wisdom, she did admit to having one question in response to a comment on the video.
"What do you guys do with your decorator pillows when you sleep?? I feel so bad throwing them on the floor…" a woman asked.
Ash responded, "Me too! I've been looking for somewhere to put them."
Others who watched the video came to the rescue with suggestions like a woven basket and an armchair.
InPictures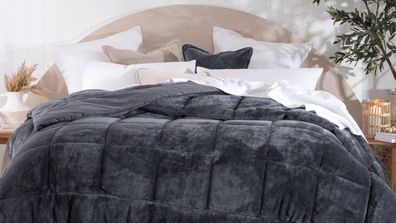 9 cozy winter bedding buys under $100 to keep you warm all season long
Layering options to suit your needs.
ViewGallery