Significantly longer turnaround times at emergency departments due to overcrowding are the "biggest issue" for ambulance crews, according to SIPTU.
Speaking to RTÉ's Drivetime, the union's ambulance sector president Greg Lyons said delays at an ED in the west of the country led to one ambulance crew spending an entire 12-hour shift waiting to hand over a patient to hospital staff.
The crew was unable to respond to a single live 999 call during this time.
Mr Lyons, who is also a paramedic, said: "One thing that was reported was that one crew spent their entire 12-hour shift in an ED with a patient, whether out in the ambulance or in the ED continuing to care for the patient prior to receiving a bed or a location in the hospital to do a handover."
He said that this means that the ambulance is "obsolete".
Mr Lyons said: "Once the ambulance arrives at the ED, until it is relieved and the patient handed over into the Emergency Department nursing care, they are not free or available to respond to the outstanding calls, which is the real risk for the ambulance service.
"It's the patient that we haven't got to that's the risk, not the patient that's with the crew or the hospital staff."
He said that "a normal turnaround time would be 30 minutes, maybe up to an hour".
"Now we're at the point where three hours is normal, up to eight hours could be average," he said.
Mr Lyons said that paramedics have been "pushed to the pin of their collar" and burnout is increasing.
He said: "They're starting their shifts knowing that there are calls outstanding, knowing that their 12-hour shifts will most likely extend into, in some cases, it could be a 16 or 18-hour shift, which involves extra driving and is pushing them pretty much to their limits."
In a statement to RTÉ News, the Health Service Executive said: "The National Ambulance Service will continue to support our colleagues in emergency departments throughout the country through a number of measures.
"At the beginning of December, NAS activated a new Tactical Management Unit operating 24/7 to support staff and proactively manage pressures and escalations within the service for this winter and beyond began work at the start of December."
It added: "The Tactical Management Team works under the direction of a Senior Tactical Manager 24/7 who will work closely with acute hospital colleagues to reduce the impact of arrival to handover delays while supporting hospital turnarounds.
"The team will continue to work in this capacity following the winter period."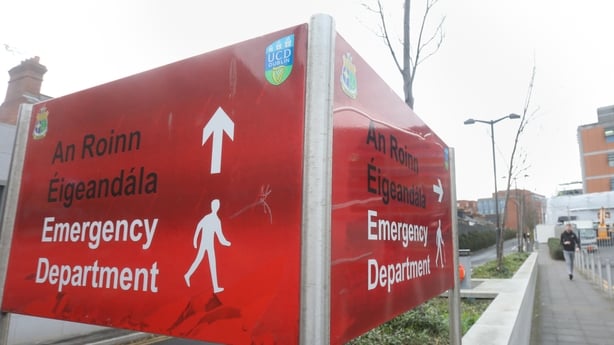 It comes as the Irish Nurses and Midwives Organization said there were 489 patients on trolleys waiting for admission to a hospital bed this morning.
Its Trolley Watch data found that 390 patients were waiting in an emergency department, with 99 in wards elsewhere in hospitals.
It said the hospitals worst affected were University Hospital Limerick with 48 patients waiting, Cork University Hospital with 38, Letterkenny University Hospital with 37, Sligo University Hospital with 30 and St Luke's in Kilkenny with 28 patients waiting.
Just over 400 patients were discharged from hospital on Saturday – compared with 278 patients on the same day the previous week – as staff worked extra shifts.
The HSE said this was not done in response to criticism but in the interest of patient welfare.
Chief Clinical Officer of the HSE Dr Colm Henry has said a rise in the number of discharged patients over the weekend was a "whole system response" and not just additional senior decision-makers working over the weekend.
One of the factors contributing to overcrowding is that there are over 500 beds occupied by patients whose acute care has ended but there is currently nowhere to transfer them to out of hospital.
Private nursing homes say they have around 1,000 beds available for use.
The HSE has said there are 71 hospital beds closed, or not available, due to infection control, refurbishment, and staffing issues.
45 of these are not available due to infection prevention and control, 22 closed due to staffing issues, three closed due to Covid-19 and one bed closed for refurbishment.
HSE trolley figures differ from the INMO figures, as the HSE data taken at 8am only counts patients waiting in emergency departments, not those placed on wards waiting for admission to a bed.
This morning's HSE figures showed a significant reduction in hospital overcrowding with 360 patients waiting, including six at the three children's hospitals in Dublin. Overall the figure represents a 23% increase compared to this day last year.
The hospitals worst affected are St Luke's in Kilkenny with 24 patients waiting, Letterkenny University Hospital with 23 and St James's Hospital in Dublin with 23.
According to the HSE 'TrolleyGar' figures, University Hospital Limerick has ten patients waiting.
Speaking on RTÉ's Morning Ireland, Dr Henry said the effort was a "whole system response".
"What we did over the weekend was bring in not just additional senior decision makers in the form of consultants and doctors and senior nurses, but also the support network around them," he said.
"Be clear about this, these extra efforts and the other efforts we asked of staff over the Christmas period were not in response to criticism.
"They were in response to clear patient safety concerns we had relating to patients who were presenting to emergency departments who had not yet been assessed following triage, and for those patients who had been assessed and were admitted and were waiting long periods of time on trolleys in particular older people.
"It was a response to those clear patient safety concerns that we brought in those escalated measures since last Tuesday."
Dr Henry said there were 248 people waiting admission on trolleys last night.
He said that of the beds acquired in private hospitals, 148 patients are in those beds.
"And we're seeking additional beds from the Private Hospital Association in case of this surge of virus, which has not yet peaked, continues to cause impact – as it is across Europe – on our healthcare system," he added.
Dr Henry said the HSE is "looking for as much as we can get" and that the number available "completely depends on the workload of the private hospitals".
He said rescheduling elective surgery to prioritize emergency care "does involve curtailment of non-urgent care", but that "from a clinical and from a patient safety perspective, our absolute priority is those patients with acute, unscheduled care" who are presenting to emergency departments.
We need your consent to load this rte-player contentWe use rte-player to manage extra content that can set cookies on your device and collect data about your activity. Please review their details and accept them to load the content.Manage Preferences
Minister for Health Stephen Donnelly has welcomed the increased focus on patient discharges and thanked all healthcare staff for their extra work in helping achieve this.
However, Social Democrats co-leader Róisín Shortall said it was a disgrace that all possible capacity was not deployed "weeks ago" in preparation for the overcrowding at hospital emergency departments.
Speaking on the same programme, she said there is a need for "joined up thinking within the health service" and that Sláintecare must be implemented to streamline services in and out of hospitals.
"We need to have joined up thinking within the health service. We need to stop this business of the hospitals doing their thing, primary care doing their thing separately."
Ms Shortall said there is a need for "an integrated system" in Ireland "so people actually talk to each other".
She said Minister Donnelly and the Government must "commit and recommit" to its implementation because "we can't continue with the situation where we have crisis upon crisis within the health service".
Ms Shortall said there are "6,000 people" who have been approved for home care "and yet the system doesn't seem to be able to provide that homecare because it's not sufficiently prepared for that demand."
Meanwhile, ambulance paramedics will be permitted to bring patients directly to the medical assessment unit at Ennis Hospital from this morning as one of the measures to ease severe and consistent overcrowding at University Hospital Limerick.
Additional reporting Saoirse McGarrigle, Paul Cunningham and Fergal Bowers