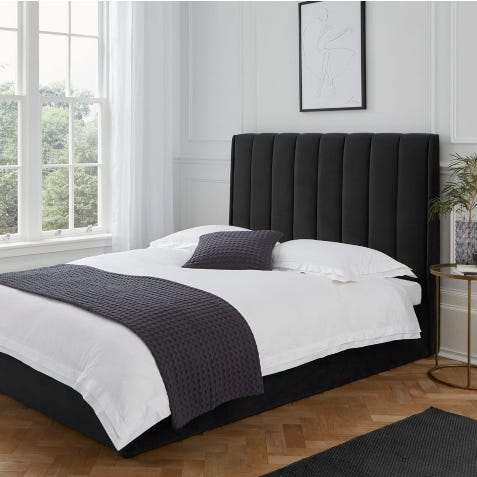 DUSK
Luxury bedding retailer DUSK has launched a stylish collection of bed frames for less. Whether you're looking for an ottoman-style frame or fabric upholstered beds, there's something here to suit every bedroom.
Available to buy online now, the collection includes six classic styles in a range of fabrics, colors and sizes complete with a wooden sprung slatted base to offer the ultimate comfort and support.
'We're evolving the brand to become a full homeware and furniture offering and beds are a natural progression from bedding into furniture for DUSK,' says Laura Burnett, Head of Furniture Design at DUSK.com.
'People can find classic and stylish designs such as button and ribbed backs and piping detail, created to suit DUSK.com customers old and new. DUSK.com is known for its neutral color palette, so it was important that we chose the colors in line with this. Inspired by our own bed linens we played with the textures such as great quality velvets and fabrics to match the most popular DUSK collections, creating that high end look for a really affordable price that DUSK.com is known for.'
Take a look at the range below:
Advertisement – Continue Reading Below
With a minimalist feel, this soft gray bed frame features an elegantly curved headboard, generous under-bed storage, and a wooden sprung slatted base. Available in linen look gray or linen look natural, there's something here for every interior scheme.
BUY BED FRAME, £349
Every bedroom deserves a bed that not only provides blissful comfort but one that also serves as a centrepiece. If you're looking to go dark and daring, the Hepburn Velvet ottoman bed frame is perfect for creating a premium feel.
DUSK say: 'Indulge in striking curves and bold charcoal tones with our art-deco inspired Hepburn Velvet ottoman bed frame – a standout choice for any bedroom.'
BUY BED FRAME, £499
A serene, peaceful bedroom doesn't have to be boring. This elegant linen-look ottoman bed frame features a luxurious headboard with matching piping around the edge — and it's far from plain. Much like the other styles, this one also comes complete with handy under-bed storage and wooden slats.
BUY BED FRAME, £449
Modern and stylish, gray is a great color choice for the bedroom. If you're looking for a bed with a large cushioned headboard, then this one from DUSK is just for you. Standing at 125cm, it's the tallest in the range and comes comes finished in a soft-touch linen look fabric that feels as premium as it looks.
BUY BED FRAME, £499
This smart gray bed frame, featuring deep buttoned detailing and folded pleats, has been designed for snoozing on repeat. With a Scandi feel, it also has soft rounded corners, wooden legs on the base of the bed and a clumsy pillow headboard. Getting a good night's sleep just got easier.
BUY BED FRAME, £499
If you are a lover of more traditional styles, then this bed frame is for you. In soft cream, it features a hand-buttoned design, cushioned headboard, and soft linen-look fabric. Perfect to pop in the spare room if you want to impress guests.
BUY BED FRAMES, £499
You can never go wrong with a classic gray bed frame, especially when it's as luxurious as this velvet design. Described as a 'must-have statement' for the bedroom, it features a gray headboard complete with elegant contrasting piping for a luxurious finishing touch. Don't forget about the storage underneath — perfect for keeping blankets, shoes and accessories.
Follow House Beautiful on Instagram.
This content is created and maintained by a third party, and imported onto this page to help users provide their email addresses. You may be able to find more information about this and similar content at piano.io
Advertisement – Continue Reading Below