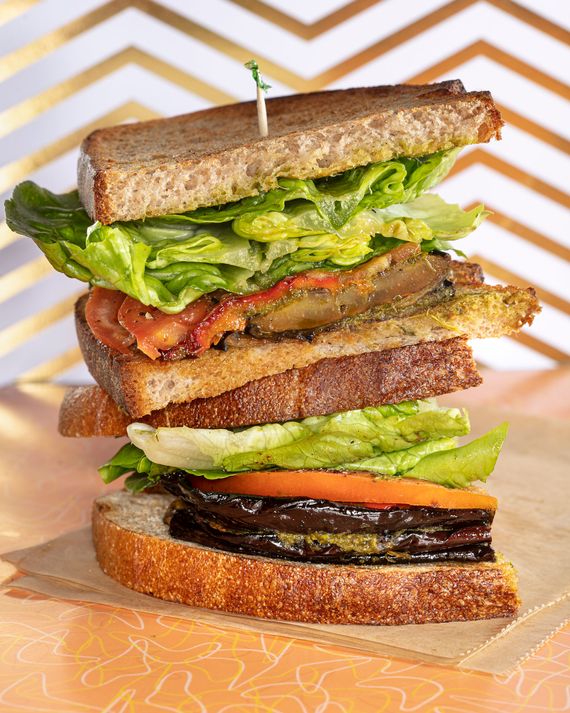 The eggplant and pepper sandwich from Doctor's Cave Café.
Photo: Melissa Hom
I never understood why anyone would denigrate eggplant. Sure, I've cooked mushy parmigiana clams, but that's not so much an indictment of nightshade as my inexperience in the kitchen at the time. Eggplants can be excellent in all their forms: cold, pureed and electrified with mustard oil, like Baingan Bharta the Bengali style; sweet and savory like in Iranian eggplant jam; or just toasted until it basically turns into puree. For years I've been obsessed with Chinese fried eggplant, sweet and garlic. Occasionally, I've been known to buy small Japanese eggplants without a prescription. And eggplants are one of my fondest sandwich memories, many of which are breaded schnitzel in Italian-American delicatessen stores on Arthur Avenue or Staten Island. Eggplant, I know from years of investigative reporting, makes an excellent sandwich. When I noticed an eggplant and pepper sandwich on the menu at Doctor's Cave Café, which reopened last month after a few months of renovations in Bed-Stuy, I decided to do the smart thing. I placed an order and got a side of pumpkin and chicken soup.
Both plain old purple and zebra eggplants are used for the sandwich and are grilled until the skin is shiny and darker. The pieces are thin but meaty; you can really bite into it. The peppers are roasted and red, light and a little sweet, and there are a few leaves of terribly fresh lettuce, all crispy, crunchy, and refreshing. The sandwich is topped with chimichurri made from carrots, lovage, parsley, roasted garlic, lemon juice, salt and pepper. It's not too complicated. Like all great sandwiches, it does the job with just a few ingredients. An added benefit of the eggplant sandwich is that it leaves room for one of co-owner Jean Williams-Cutler's excellent baked goods. Maybe a blueberry tart made from cassava flour, a coffee cake with rhubarb or a soft coconut cake.
Except for a few years when it was temporarily closed, Doctor's Cave Café has been on this quiet corner of Marcy Avenue and Putnam since 1999. Williams-Cutler and her husband Timothy Cutler opened the cafe, but this sandwich is courtesy of their son Morell Cutler. Sometimes he just tried to use a few leftover products. "We got a lot of carrots and there were so many greens and they were so fresh and alive and I decided to mix them into a sauce. I thought, What would that be good for?"he says." And I'm a little bit into portobello mushrooms, so maybe eggplant? "
The discreet location makes it feel like a secret, the kind of place that surprises you is still there. Occurs. It's a nice place that looks like a bed and breakfast or a country kitchen, the walls are painted white and a creamy shade of orange. Decorations have been collected over the years: seashells collected from different beaches; an antique stove they got from the mother of a Hudson Valley farmer; a painting by Morell, an artist.
The café was named after the Jamaican beach where Williams-Cutler and her husband first met while on vacation in 1989. Growing up in Jamaica as one of nine children, she says her island childhood gave her a keen sense of what good food is all about. "We ate everything – oh, now it's organic. It just wasn't labeled, "she recalls. "We were a big family of bakers, my sisters and I. I've always cooked and I've always baked since I was a little girl. And how I've got on now. "
She moved to New York in the 1980s and eventually bought the building on Marcy Avenue. The trigger for the opening of the Doctor's Cave was the immigration of her husband from England. When he came to see her in New York, he had difficulty finding a job as a lawyer. When the man who ran a takeaway outside the store died, the room was made up. "After we cleaned it up, we said we weren't renting this room to anyone," she says.
At the time, Williams-Cutler was working as a nurse at Bellevue Hospital in the intensive care unit. She continued to work in hospitals, sometimes part-time, while running the café with her husband. It was a great presence in her life. "I always thought it was an important part of my family growing up," recalls Morell.
Owning the building has allowed them to run the business on their own terms, even though Brooklyn and Bed-Stuy have been transformed by gentrification that has displaced residents and other business owners. The real estate advantage allowed them to close the cafe for a few years while they remodeled the building's cornice and have it open for the hours they saw fit. (These days it's Tuesday through Friday, 9:00 am to 3:00 pm.) "If this weren't my building, it would be different. I would probably have a lot of different restrictions, "Williams-Cutler admits.
Williams-Cutler retired from nursing five years ago. She and her husband now commute between Bed-Stuy and their house in the Hudson Valley, which they bought 13 years ago. They grow shallots, potatoes and other products. She says she's trying to support farms in the Hudson Valley, especially those run by women like the Hepworth, Minard and Maynard farms. Down the street from her home is Story Farms, which has been run by the same family for six generations. A few weeks ago, a local came by not for a jerk tofu sandwich, but for her egg order, which Williams-Cutler says is driving down from her neighbor in the Hudson Valley. One afternoon after closing, Williams-Cutler left the door open and had a Dutch oven cooked with roast beef while waiting for people to pick up CSA stock. A passing man peered in through the open door. He hadn't been there in a while. "I couldn't believe my eyes," he said. He pointed to the extended room and said, "But that, you know – get out of here."
So: why renovate and reopen the café after the actual retirement? It's all part of the plan for Morell to take over the business in about a year, keep it going, and also turn the Doctor's Cave Cafe into a nightspot a few nights a week. (The goal is to start dinner by January; Williams-Cutler says they are hiring a chef to help.) They won't be serving the same type of food. Williams-Cutler promises that it will be "a very special Caribbean menu" and talks about goat meat from the Hudson Valley, stockfish and also some vegetarian dishes. Morell says there will be simple jerk chicken on the menu, but other dishes won't be as traditional. "I'm now creating a menu that includes all the newly interpreted Jamaican classics," he explains. "I move from Asian cultures, I subtract a bit from Thai food just to make it more scalding or a little raw."
They also envision a future, maybe in a year, when their son Morell runs the café. "I'm doing this because I want to get on with Doctor's Cave and take it to a new level – that's a good thing," says Williams-Cutler. "We'll be in the background. We'll help anyway. As long as I can – because I love that. "