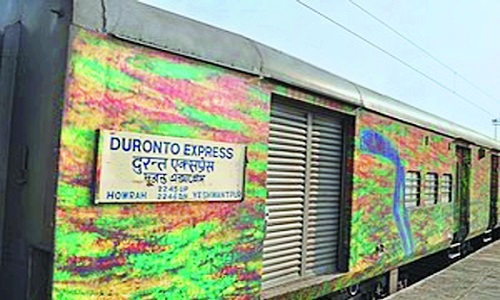 By Sagar Mohod
With Indian Railways now wholly concentrating on earnings profits, the travelers are getting squeezed out of the last remaining penny. Introduction of Dynamic Fare in some premium trains has resulted in continuous jingling of the cash register for the Railways. However much to the disappointment of travellers, the accompanying amenities are not keeping pace with the rapid increase in fares.
For example in the Nagpur-Mumbai-Nagpur Duranto the Central Railway has started selling of disposable bed roll. About Rs. 150 is charged by the vendor for the roll that is supplied in a paper packet. The roll contains one bed sheet, a light weight blanket. There is another roll available for Rs. 250 that contains a pillow in addition to sheet and a blanket.
The regular travelers are however feeling the pinch and said this is totally unjust on part of Railways as through Dynamic Fare system they are already raking in moolah and bed roll should have been complimentary.
At the least the previous system of taking nominal charges for bed roll with ticket fare should have been restored. By resorting to selling the bed roll the Railways is squeezing us out by forcing us to buy it every time one undertakes the journey.
During the Covid-19 pandemic the bed roll supply was stopped and ambient temperatures were maintained in air conditioned coaches so that there was no need for blanket or bed sheets. Railway Board during March, 2022, directed Zonal Railways to immediately resume supply of bed rolls across all trains. However division officials had already allotted a contract for selling bed rolls and other necessary items to travelers under Non Fare Revenue (NFR).
One of the regular travellers, Anil Wadpalliwar, talking to The Hitavada, termed this is an open loot on part of the Railways. The national transporter is exploiting its monopoly position and there seems to be no check on accountability in railways.
The Railways is already charging hefty fare as the dynamic pricing is applicable to Duranto tickets. He said what is more surprising is that travelers in Nagpur-Chhatrapati Shivaji Maharaj Terminus (CSMT) Dadar Express and even Vidarbha Express are provided bed rolls during their travel. So in a way the travelers of Duranto Express even after coughing up extra fare are being discriminated by the Central Railway, said R Venu, who periodically undertakes travel in Duranto Express.
The train being very popular is always jam packed on Nagpur-Mumbai route. Hence the regular travelers are feeling the brunt of the indirect price hike that is forced down the throat of helpless travellers.
Said Basant Shukla, Secretary, Bharatiya Yatri Kendra (BYK), currently passenger amenities have become secondary for the Railways. There is plethora of complaints and every time BYK raises these issues the administration ignores the same. "One is at loss to understand whom to approach for seeking redressal of the travelers grievances", Shukla opined while talking to The Hitavada.
Similar feeling was also echoed by Satish Yadav, Member, Zonal Railway Users Consultative Committee, Central Railway, saying travelers are akin to consumers and hence it's wrong to hawk bed roll, a most essential item that to in important train like Duranto. Talking to The Hitavada, Yadav said its quite strange that in normal Mail/Express trains, like Vidarbha Express, for example, the bed roll is being provided at nominal cost, and yet in premium train like Duranto Express travelers are being squeezed. This is wrong practice and must be stopped immediately.
The blanket sold in Duranto is not very effective in providing warmth as it is very thin. This is the common complaint of the travelers and many a times instruction of keeping air condition temperature at ambient level are being violated. In fact, even Vigilance Team from Zonal Headquarters had detected deliberate lowering of temperatures in AC coaches in Mumbai bound Duranto.
Divisional Commercial Manager (DCM) Vijay Thool when contacted was noncommittal on resumption of bed rolls to travelers in Duranto Express saying Railways has already allotted a contract.
.