ORCHARD PARK, NY – The Buffalo Bills will close their regular season Sunday, hosting the New England Patriots in what's expected to be an emotionally charged game.
The Bills went from being emotionally stunned by witnessing Damar Hamlin getting resuscitated on the field in Cincinnati on Monday night, to being joyously uplifted after the safety addressed to his teammates by videoconference on Friday.
"I love you boys," Hamlin said in a soft voice.
Hamlin, who's shown remarkable recovery since going into cardiac arrest twice Monday, will watch the game from his hospital bed in Cincinnati, NFL Network insider Ian Rapoport reports. He posted on social media Saturday for the first time since his collapse.
For Buffalo GM Brandon Beane, the Sunday game is far more than a showdown against an AFC East rival to close the season. Instead, it represents a celebration of life in knowing Hamlin is on the road to recovery.
"I probably get emotional if I talk too much about it, but I'm so proud of our organization, our team, just so many people, the way we've dealt with so much this year," Beane said. "Definitely not the way you draw it up. I don't know what's gonna happen the rest of the season on the field, I really don't. This is a group of winners, and I will forever remember this team, this season. "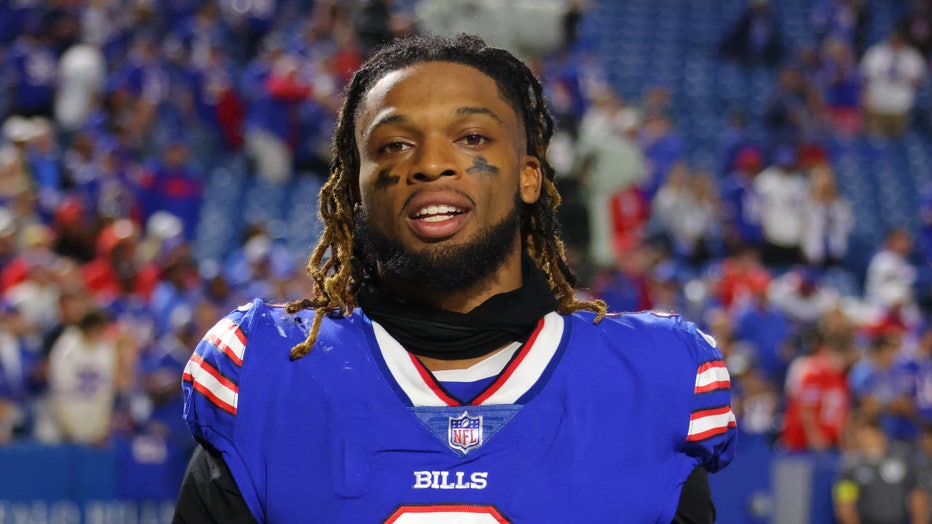 Damar Hamlin #3 of the Buffalo Bills after a game against the Tennessee Titans at Highmark Stadium on September 19, 2022 in Orchard Park, New York. (Photo by Timothy T Ludwig/Getty Images)
The NFL is showing support for Hamlin during all Week 18 games, which started Saturday afternoon, including a pregame moment of support, painting Hamlin's No. 3 on the 30-yard line and pregame shirts with "Love for Damar 3." The Bills will also wear "3" jersey patches.
READ MORE: How NFL teams will show support for Damar Hamlin this weekend
Buffalo (12-3) is motivated despite having less riding on the outcome of the game than the Patriots (8-8). Buffalo has clinched its third consecutive AFC East title, but has lost the inside track to win the AFC's top seed. The NFL's decision to cancel Buffalo's game against Cincinnati pushed Kansas City (13-3) ahead of the Bills in the standings.
READ MORE: Damar Hamlin's jersey sales skyrocket and Fanatics says all proceeds will go to his charity
The one consolation is the league ruling the AFC championship game would be played at a neutral site should the Chiefs win the top seed and face Buffalo, should both teams win or lose on Sunday.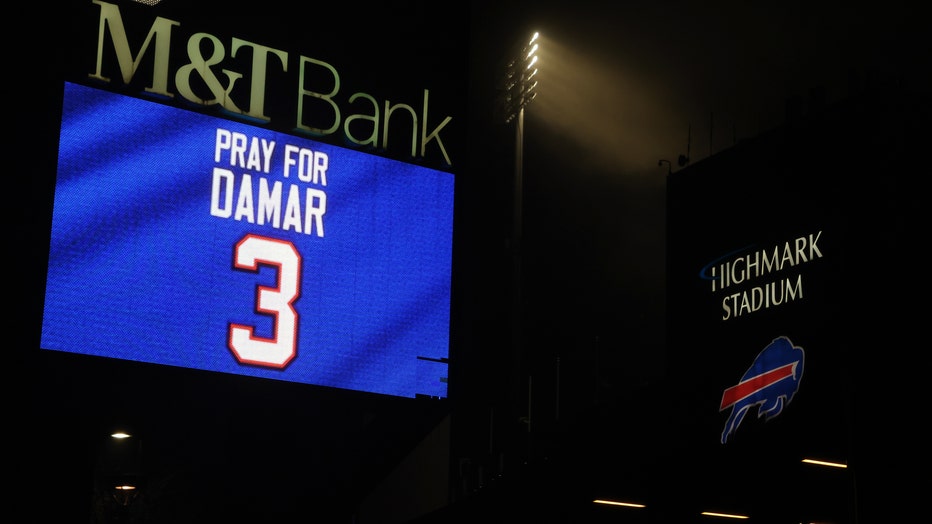 Buffalo Bills fans attend a candlelight prayer vigil for player Damar Hamlin at Highmark Stadium on January 3, 2023 in Orchard Park, New York. (Photo by Timothy T Ludwig/Getty Images)
In New England, the Patriots need only to win to clinch their 13th playoff berth in 14 seasons. New England can also clinch a spot should the Dolphins and Steelers lose, and Jacksonville beats Tennessee.
The Patriots find themselves in the wild-card race by virtue of a 23-21 win over Miami — and despite losing four of their last six.
Not lost on coach Bill Belichick is the emotional weight that will serve as a backdrop on Sunday, when it comes to Hamlin.
"Everybody individually will have to process it like we've been doing. Expect it to be an emotional scene and in the end we're going there to play our best football game," Belichick said. "I think everybody understands there's a balance and there's multiple things going on there."
Show of support
Bills coach Sean McDermott said Belichick was among the many NFL coaches who reached out to him to provide support after Hamlin was hurt.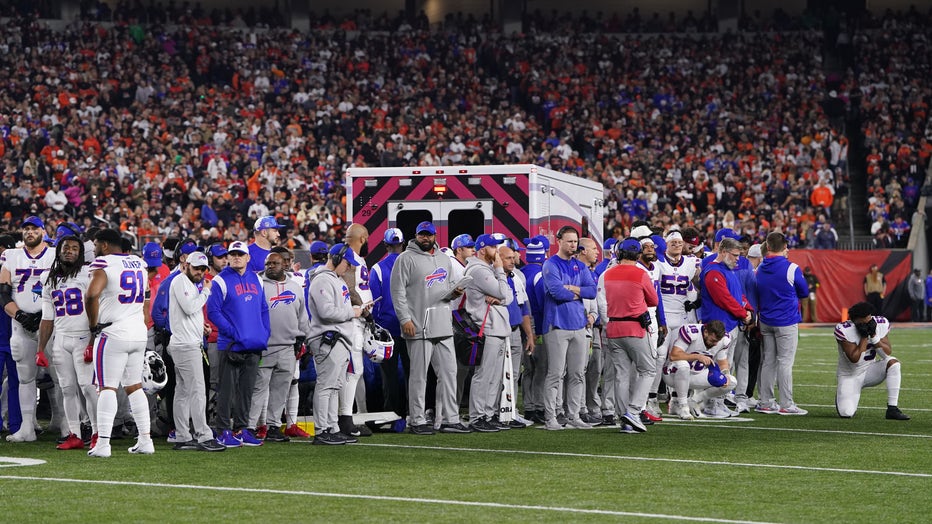 Buffalo Bills players look on after teammate Damar Hamlin #3 collapsed on the field after making a tackle against the Cincinnati Bengals during the first quarter at Paycor Stadium on January 02, 2023 in Cincinnati, Ohio. (Photo by Dylan Buell/Getty I
"I certainly appreciate his thoughts and prayers," McDemott said.
As for game preparation, the Bills essentially held one full practice on Thursday, with Wednesday and Friday's sessions serving mostly as walkthroughs.
"It kind of makes you, respectfully, chuckle a little about what we've dealt with," McDermott said. "Hey, why not make it a short week on top of that."
The Associated Press contributed to this report.
.