At a rally in Kamsack on Thursday, residents vented their frustrations over the ongoing decline in health services in their community.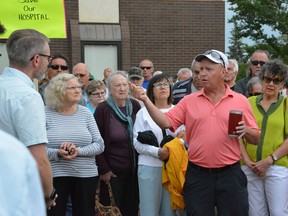 Article content
KAMSACK — More than 100 people surrounded Rural and Remote Health Minister Everett Hindley and Canora-Pelly MLA Terry Dennis on Thursday outside the Kamsack Hospital in protest of hospital beds closing and reducing emergency hours.
Article content
The crowed directed multiple questions toward their governing representatives during the tense confrontation, frustrated with an ongoing decline in health services in their community.
"What are you guys going to do to keep the hospital open?" asked one woman.
"You're not trying very hard!" shouted another person. "There's been staff shortages in health care for years and you haven't been doing a very damn good job," he said.
Another man then accused Dennis of not representing Kamsack fairly. "I think you represent Canora," he jeered, followed by cheers from the crowd.
Dennis, who appeared slightly depleted near the end of the confrontation, responded, "We have no control where the nurses go, where the lab techs go and everything else."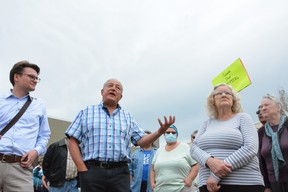 The response resulted in a chorus of boos. After, Dennis said the government will work on addressing the shortage of health-care staff.
"We can't change it overnight if nurses aren't here," he said, adding the government also needs help from the community, which prompted more boos.
The confrontation came after people in the community rallied outside the Kamsack Hospital for nearly two hours on Thursday, pleading with the government to save the hospital from what they fear could be a closure in the future.
The last straw came when the remaining five inpatient beds at the hospital closed because there haven't been enough nurses and health-care employees to staff them. The hospital used to have 20 beds open.
Article content
Further, the Saskatchewan Health Authority posted recently the emergency department hours would be reduced to Monday to Friday from 8 am to 4 pm It had been available 24 hours per day.
Residents in need have been directed to go to Canora, Kelvington, Wadena and Yorkton. Those at the rally said Kamsack acts as a hub for roughly 200,000 people, including First Nations communities.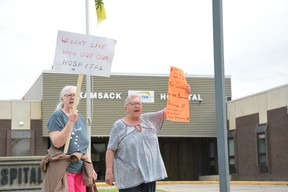 And adding to the confusion and frustration for residents in the area, a sign posted on the Canora Hospital on Thursday said emergency services would not be available until Friday at 8 am People there were directed to go to Kamsack.
"They needed to move on this today," said rally organizer Betty Dix, who is a former mayor of Kamsack. "We didn't get any answers. We've heard all of this before. Those same answers have been given to us for the last 15 years and we're sick of it."
During a meeting with town representatives, Hindley said the government would re-open the beds as soon as there were enough employees to staff them.
He couldn't guarantee a timeline on when that would happen, leaving many feeling as if their questions weren't answered.
"I'm very frustrated with no timeline, totally frustrated," said Nancy Brunt, the town's mayor. "This isn't my first meeting with them, and it's not my first assurance. I am holding them to their assurance that they're going to get our beds re-opened because our town needs it."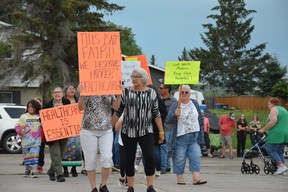 At the rally, the protesters reflected on past experiences needing the hospital. With emergency hours reduced, they fear the worst.
Article content
Benneke Gerald said he had spent two weeks in the hospital last year after being attacked by a dog.
"If I came here like I did a year ago with that dog attack, bleeding like a pig, I'd have bled to death before I had got to Yorkton," Gerald said. "If it wasn't for this place and the ER wasn't open at the time, I might have been in trouble."
Cathy Fedoruk, who has used the hospital for more than 40 years, worries Kamsack will fade should it lose the facility.
Hospitals in rural communities are a symbol of pride. Once they disappear, there's a good chance of losing the school and the RCMP detachment, Fedoruk said.
"For the last few years, this has been a real crisis," she said. "I really hope the government takes a good look at our system here."
The episode that unfolded Thursday follows years of service disruptions plaguing rural hospitals across the province. The main reason why is the province can't find enough people to staff the facilities.
Hindley said the province is continuing to work on a strategy to recruit more health-care workers and retain current employees. He said an announcement is expected "in the not too distant future" on concrete next steps.
Looking at hiring more full-time, permanent jobs is part of conversations, he said. Most of the job posting for rural health employees have not been for permanent, full-time positions.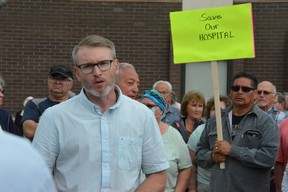 Brunt said the definition of rural needs to change. She explained students who receive bursaries are required to work in a rural community for three years. If Kamsack is given a rural designation, those students could be sent to work in the town.
Article content
At the rally, NDP MLA Matt Love also faced questions from the crowd. He said the NDP has asked for a roundtable that brings health-care workers and families together to find solutions.
When one person brought up the NDP's past record of closing rural hospitals in the 1990s, Love acknowledged the party paid the price for those decisions. However, he said today's bed closures and disruptions rest on the Saskatchewan Party government.
"They'll bring up what happened 30 years ago before they take responsibility for what's happening today," Love told the crowd after some applause.
Dix said she and town residents will continue to advocate to keep Kamsack's hospital open. She said the government needs to make sure incentives can attract nurses to work at the facility.
"Our work is not going to stop here," she said. "And it won't just be us. It'll be the surrounding area."
The news seems to be flying at us faster all the time. From COVID-19 updates to politics and crime and everything in between, it can be hard to keep up. With that in mind, the Regina Leader-Post has created an Afternoon Headlines newsletter that can be delivered daily to your inbox to help make sure you are up to date with the most vital news of the day. Click here to subscribe.