'Believe all women, believe all women… except Amber Heard,' comedian joked after actress' alleged defecation incident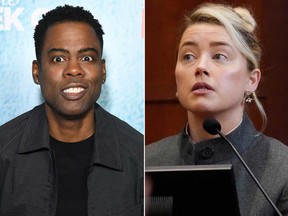 Article content
Comedian Chris Rock says allegations that Amber Heard pooped in a bed she shared with ex-husband Johnny Depp is no laughing matter.
Article content
During a standup set in London last week, Rock, 57, joked that it's important to take a woman's claim of domestic abuse seriously, unless Heard is the one making the allegations.
"Believe all women, believe all women… except Amber Heard," Rock said, according to Fox News. "What the f— is she on? She s— in his bed! She's fine, but she's not s—ting fine. She s— in his bed. Once you're in someone's bed, you're just guilty of everything. … What the f— is going on there? Wow. And they had a relationship after that. It must be amazing p—-. … I've been with some crazy bitches but Goddammit."
During his testimony in his defamation trial against Heard, Depp alleged that his ex or one of her pals "dropped a grumpy" in their marital bed after an argument erupted over his tardiness for her 30th birthday party in April 2016. The actor claims he left their condo in downtown Los Angeles for another home in the Hollywood Hills after she became angry with him.
Article content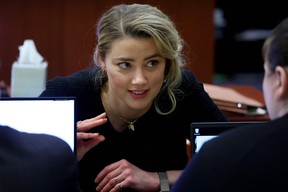 The next day, Depp, 58, was shown a pic sent by his housekeeper. "It was a photograph of our bed," Depp testified. "And on my side of the bed was human fecal matter."
He continued, "My initial response to that was … I laughed … It was so bizarre and so grotesque that I could only laugh."
Later on, when speaking about the incident, "Amber Turd," as Depp referred to her, "tried to blame it on the dogs" — Pistol and Boo.
"They're teacup Yorkies. They weigh about 4 pounds each. The photograph that I saw — I lived with those dogs for many years. I picked up their funk. It wasn't the dogs."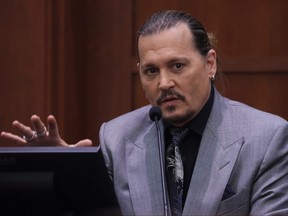 Starling Jenkins, a member of Depp's security team, said he discussed the incident with Heard, 36, as he drove her to Coachella after the pair had their explosive exchange following the birthday party.
Article content
"We had a conversation pertaining to the surprise she left in the boss' bed prior to leaving the apartment, Jenkins said.
When Jenkins clarified that the "surprise" he spoke of was in fact fecal matter in the couple's bed, he said that Heard described the poop as "a horrible practical joke gone wrong."
Elsewhere in his standup set, Rock joked about getting slapped by Will Smith at the Academy Awards in March after he made a joke about the KingRichard star's wife, Jada Pinkett Smith.
"I'm OK, if anybody was wondering," Rock said, according to Fox News. "I got most of my hearing back."
But don't expect him to address about the incident anytime soon. "I'm not going to talk about it right now. I'll get to it eventually…on Netflix."
Amber Heard admits poop left for Johnny Depp was 'a horrible practical joke'

'SOCIOPATHIC SHOW PONY': Johnny Depp's pal says Amber Heard out to 'destroy' ex

Jada Pinkett Smith laughed after Will slapped Chris Rock