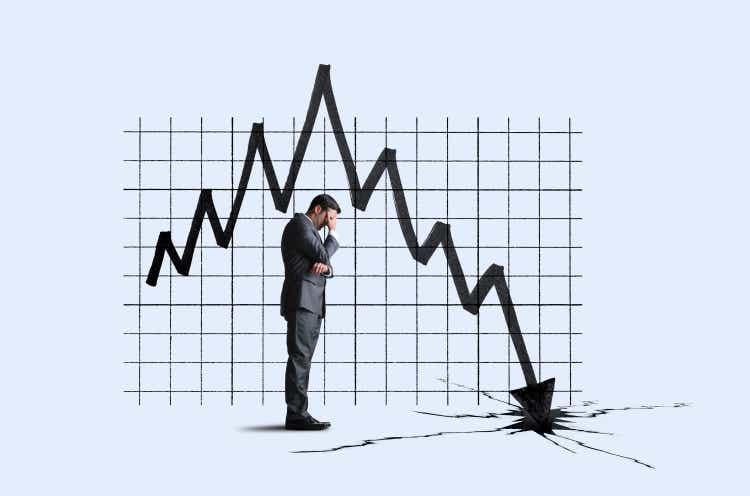 Bed Bath & Beyond (NASDAQ:BBBY) has been on quite the journey in the past year. As the company struggles to find a path forward, bondholders have practically abandoned any hopes of seeing their investment come to maturity. Bed Bath & Beyond has three debt issuances maturing in 2024, 2034, and 2044. All three bonds are currently trading at a deeply distressed price of under 10 cents on the dollar, with through-the-roof yields. Despite what some may see as a huge opportunity, I believe real risks exist that could ultimately bring the value of these bonds to zero.

After failing to report its latest earnings in a timely manner, Bed Bath & Beyond released its third quarter earnings last week. Information in the earnings release was limited because it was not the full 10-Q filing, but the income statement, balance sheet, and statement of cash flows were each released, painting the dire picture.
On the company's income statement, revenue in the first nine months of the fiscal year dropped a staggering $1.7 billion from the same period a year ago. While cost of sales declined, it was only by approximately $1 for every $2 decline in sales. Gross profit was nearly cut in half from a year ago and at $1 billion, it was no match for the company's $1.8 billion in SG&A expenses. Overall, the company has lost an astonishing $1.1 billion year to date on operations.

The balance sheet for Bed Bath & Beyond is equally horrific. In one year, the company has managed to burn its cash position from $509 million to $153 million and simultaneously reduce its inventory by nearly $500 million. The combination of declines in sales, cash balance, and inventory along with the surge in long term debt is horribly problematic for the future of the organization. Shareholder equity dropped by more than $1.3 billion in one year as a result.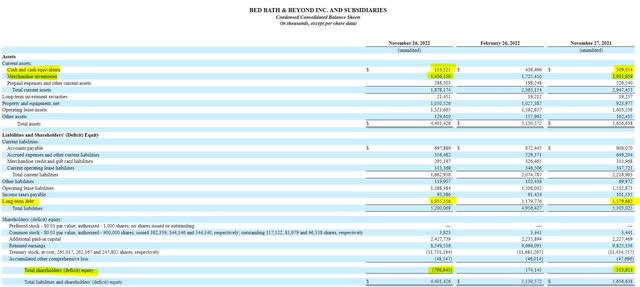 The statement of cash flows does not paint any better of a picture. In the last nine months, the company has burned $900 million from operating activities. This is shocking considering that none of the cash burn had to do with inventory build, on the contrary, inventory had substantially declined. Bed Bath & Beyond will need to burn more operating cash flow in order to acquire inventory.
Combined with capital expenditures, free cash flow was negative by more than $1.2 billion in the first nine months of the fiscal year. To continue operating, Bed Bath & Beyond needed to borrow $925 million during the fiscal year 2022. The company could have really used the $400 million it dedicated towards stock buybacks since the beginning of fiscal year 2021. In fact, Bed Bath & Beyond has bought back approximately $11.7 billion in stock since 2004.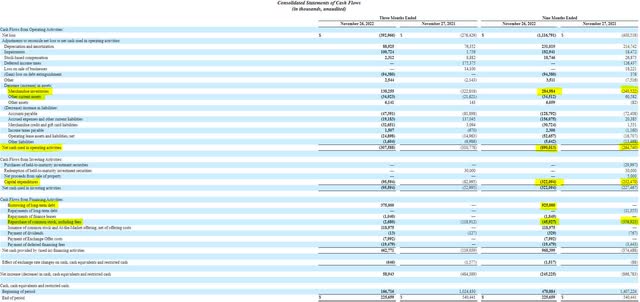 When it comes to Bed Bath & Beyond's borrowing abilities, we must refer to the prior quarter's SEC filing (10-Q) where the company disclosed it had $690 million in borrowing capacity. From there, we know that Bed Bath & Beyond borrowed $375 million in the third quarter, therefore its remaining borrowing capacity is approximately $315 million, which is less than what it needed to get through the last fiscal quarter. As shown on the balance sheet, the company needs to acquire inventory but may not have the liquidity to do so.

Perhaps, bond investors could earn a gain should the company restructure and swap its debt out for equity at a higher price than the current fair market value of its bonds. But, it's important to note that there is nearly a $1 billion in debt that is senior to its notes, and the company would need additional senior financing to get through a restructuring. Unfortunately, I don't see a viable way out of the hole.