According to data from the Saskatchewan Health Authority, 143 of the province's 1,269 planned beds in the northern and rural health regions were closed as of July 21.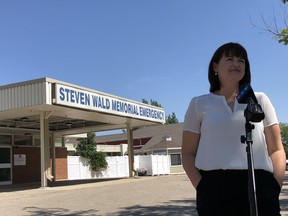 Article content
Assiniboia has become the latest community to experience hospital disruptions following an ongoing saga of health-care challenges that have plagued many rural towns.
Article content
The Saskatchewan Health Authority (SHA) verified on Tuesday the hospital has experienced disruptions following a COVID-19 outbreak, adding its ability to accept new clients has become limited. The NDP and some community members said all beds have been closed as a result, which the SHA did not clarify by deadline.
"This makes me sad and angry. There's so much behind this that's not right. It is government mismanagement," said Mary Miller, who lives in town and had required hospital services in March. "This is about the people. And I think we're being totally left out."
Like other small communities experiencing similar challenges, the disruptions in Assiniboia has stirred feelings of anxiety among some people, particularly seniors, who fear the hospital may eventually close.
Article content
According to data provided to the Leader-Post by the SHA, 143 of the province's 1,269 planned beds in the northern and rural health regions were closed as of July 21.
The two regions cover smaller communities, as well as larger centers like Moose Jaw, Prince Albert, Yorkton and Swift Current. Regina and Saskatoon aren't included in the overall numbers.
For instance, eight of Biggar's 13 planned beds are closed, four of La Ronge's 20 are closed, 13 of Meadow Lake's 32 are closed and 10 of Melville's 30 are closed.
In Assiniboia, nine of the planned 12 beds were closed as of July 21. In regards to the recent disruption, the SHA said regular operations will resume once the COVID-19 outbreak has concluded. It said no permanent bed closures are occurring.
Article content
The SHA reported all of the planned beds were open in Moose Jaw and Swift Current. Prince Albert had seven closed, Estevan had nine closed and Yorkton had six. The SHA attributed the closure in Yorkton to a COVID-19 outbreak in one unit.
All of Wolseley's 11 beds were closed as of July 21, as were all of Kamsack's 20. The closure in Kamsack sparked a large protest outside the hospital in July.
The reported closures apply to medicine, surgery, pediatrics, ICU, maternal, palliative and psychiatry units.
"Reductions in bed numbers can be temporary, intermittent or longer term, depending on the specific reason," the SHA explained in a July statement. "This can include ensuring appropriate staffing levels for safe patient care."
Article content
The SHA said while staffing challenges are one cause of the closures, other reasons may include building issues or infection control.
Over the past year, staffing shortages in Saskatchewan's health-care system have prompted service disruptions to some rural hospitals and health centers.
Workers have reported feeling burnt out, prompting some to leave the profession. Meanwhile, long-time staff have been retiring and the health authority hasn't been able to re-fill positions fast enough.
Those in health care have said they've long been experiencing staffing challenges, though the COVID-19 pandemic exacerbated issues.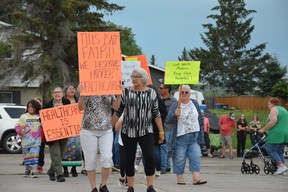 At Assiniboia, Miller said a nurse in town had resigned. She added that Assiniboia has an available nurse practitioner, but they've never been asked to fill a shift.
Article content
"They can't take it anymore. They can't take treatment from the SHA," Miller said. "People say there's nothing we can do. Well, yes there is. We have to fight. We have to keep this hospital."
Rural and Remote Health Minister Everett Hindley has said previously the government is committed to reopening the closed beds, though he can't guarantee timelines. The province has also said it's working on a strategy to bolster recruitment and retention in the health-care field.
Hindley has said previously that health-care challenges are affecting other provinces and countries.
Redvers and Lanigan, who had previously experienced long-term disruptions, have seen some service levels resume. As of Tuesday, the SHA reported 10 service disruptions on its website. However, disruptions shorter than seven days are not listed on the site.
Article content
Linda McCrank, who lives in town, said people weren't notified of the disruption in Assiniboia. They only found out about it when they visited the hospital.
Assiniboia Mayor Sharon Schauenberg said in a statement on Tuesday the town will continue to work with the provincial government to address staffing challenges at the hospital.
NDP Leader Carla Beck, who was in town on Tuesday, acknowledged health workers are burning out, adding the government has shown an unwillingness to work with communities.
She said more full-time positions need to be posted. Most postings have been for temporary or part-time positions.
"The very first step has to be for this government and this minister to sit down with the community and come up with solutions," Beck said. "These communities are willing to share these solutions, but so far their offers of help are falling on deaf ears."
The news seems to be flying at us faster all the time. From COVID-19 updates to politics and crime and everything in between, it can be hard to keep up. With that in mind, the Regina Leader-Post has created an Afternoon Headlines newsletter that can be delivered daily to your inbox to help make sure you are up to date with the most vital news of the day. Click here to subscribe.