The Army Public School (APS), Dhaula Kuan, Delhi has published an advertisement for the position of PRT, TGT and PGT. Check the details here.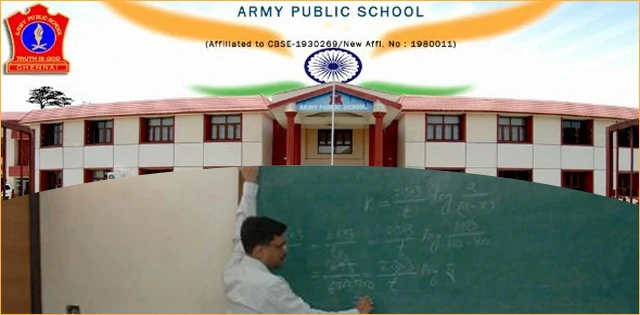 Army Public School Delhi 2022 Recruitment
Army Public School Delhi 2022 Recruitment: Army Public School (APS), Dhaula Kuan, Delhi is hiring teachers for PRT, TGT and PGT posts. Applications are invited on or before February 12, 2022 before 2 p.m. Interviews will be conducted online/offline depending on response and in line with COVID-19 guidelines. The offline interviews will be held at APS, Dhaula Kuan.
Download APS Delhi Notification
Download APS Delhi Application
Important data
Last application date – February 12, 2022
Job posting details
PGT – English, Economics, Politics, Science, History. mathematics
TGT – English, Science (Physics), Computers, Social Studies, Consultant Math, Hindi, Librarian, PET, Music
PRT – English, Hindi, Math, EVS, Computers, Special Education, Arts & Crafts
Eligibility Criteria for Teaching Posts at Army Public School Delhi
School qualification:
PGT – PG with a minimum score of 50% in the subject for which employment is sought. B.Ed with 50% mark.
TGT – Graduated with B.Ed. Min 50% points in each. In case of completion less than 50% but the candidate has qualified in PG in the same subject and scored at least 50% points in PG then the candidate is eligible.
PRT – Graduate with 2 year Diploma in Elementary Edn (DE.Ed)/B.Ed with 50% score each. Candidates who have qualified for B.Ed and not D.Ed should have completed a 6-month bridging course in Elementary Edn (D.Ed) within 2 years of being named PRT.
CSB & CTET qualified candidates.
Age Limit for Army Public School Delhi Teachers:
Fresher (Less than 5 years experience) – Under 40 years
Experienced candidates – under 57 years (incl. ESM).
How to Apply for Army Public School Delhi Teacher Recruitment 2022?
Candidates can download the application form from apsdk.com and send it to the school.
Download Army Public School Haryana Notification
WITH

Play exciting games and win cash up to Rs 1 lakh
.