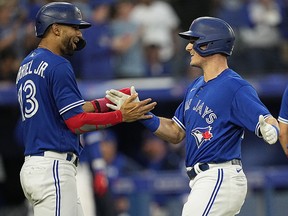 Article content
After a loss that looked like child's play on their part, the Blue Jays were not kidding around on Friday.
Article content
Ace Alek Manoah was all business with seven tidy innings while Teoscar Hernandez teed off on Kansas City Royals starter Zack Greinke for a double and three-run homer in an 8-1 win at the Rogers Centre.
Matt Chapman also had a three-run belt as the bottom of the order generated an attack that saw every starter get at least one hit.
Article content
The Jays were still feeling the sting of a 3-1 loss in the series opener on Thursday when the short-handed Royals trotted out a starting lineup with an average age of 24. But offense was not a problem this game. They had 10 men on base by the fourth inning and 16 hits in all to the delight of 26,422 in attendance.
"They came out and punched us yesterday, so for us to answer back is huge," Chapman said. "Not looking past tomorrow, but going into the all-star break with three wins would be huge. Every game is obviously important."
Article content
The Jays were losing ground in the playoff race when Charlie Montoyo was fired this week, They won their first under John Schneider, but faltered Thursday.
Behind Manoah, who stuck out six strikeouts to become the team's first 10-game winner, Friday was a much different story.
"Manoah was a beast tonight and he has another gear with runners in scoring position and he runs into trouble," said Schneider. "He's very deserving of an all-star selection. He's a tough guy to take out of a ball game. That's a credit to how he attacks every game."
Hernandez doubled to lead off the second and came around on back-to-back singles by Chapman and Raimel Tapia. In Hernandez's next plate appearance, he had Vladimir Guerrero Jr., and Alejandro Kirk aboard after Bobby Witt Jr. booted the latter's double-play ball. Hernandez drilled his 12th homer and raised his average to .324 since May 24, with 10 homers and 15 doubles.
Article content
Chapman tucked his own inside the left foul pole off reliever Carlos Hernandez in the fifth following singles by Bo Bichette and Lourdes Gurriel Jr.
After losing consecutive starts for the first time this season, Manoah was stretched to 29 pitches in the first inning, but gave up just an infield single before hit-batsman Ryan O'Hearn came around to score in the fifth.
The Royals had three more players make major-league debuts Friday, their road roster stripped of 10 players because of Canadian vaccination requirements.
"Ten guys down or not, that's still a major-league team with good players," Chapman said. "It's no one we take lightly."
Chapman, who currently bats seventh, said it was important for him to keep hitting consistently, though Schneider complimented him on getting "15 sneaky home runs and 45 RBIs" with the spotlight on others.
Article content
"I'm making (plate) adjustments, the same way I make adjustments defensively," Chapman added. "I know I'm better than a .220 hitter. (Bottom lineup power) means the top doesn't have to carry the load."
FEEL A DRAFT
Is a scout who can't travel or see talent really feel like a scout?
That was the difficulty for Shane Farrell and the Jays' staff the past couple of years in a COVID-19 world that restricted their movement and had less opportunity to see high school and college players whose own schedules were chaotic.
"We have more accessibility to the high-end players," said Farrell, appointed director of amateur scouting in 2020 just before the sports world went into lockdown. "The past two years it was challenging for everyone, not just my job, but any job. This was the first time since January of 2020 our amateur scouting group has been able to be in Toronto."
Article content
The Jays are preparing for the start of the MLB draft on Sunday night, rounds one and two, with 20 in all to be completed by Tuesday. Farrell, son of Jays' former manager John Farrell, and his bird dogs have the 23approx overall pick, the 60ththen two compensatory selections at 77 for the signings of Marcus Semien (Texas) and 78 for Robbie Ray (Seattle).
That does raise the possibility at least one of those second rounders is tried on a long shot, though Farrell doubted he'd go too far off the board.
"It depends on the alternatives at each pick," he said. "I don't think we'd lock ourselves into one demographic or type of player. One of the hardest parts of the draft and amateur scouting is you're dealing with a wide range of probabilities and ages. Comparing a high school pitcher to a college hitter is really difficult.
Article content
"Just because we have extra picks doesn't mean we should be reckless. This is an important draft. We have a little bit more money to spend than if we were picking straight up in each round, so we'll continue to target the best player available.
"Most importantly, we are acquiring human beings. Our scouts do a lot to get to know their work habits and routines.
"Sunday night will be really exciting. We're going to walk out of here with four players we really like."
Like any pro sport, the scouting department often gets the rug pulled out by the general manager when a big trade for proven players presents itself. First rounder Austin Martin, a shortstop/outfielder who'd been taken fifth overall in 2020, was sacrificed in the Jose Berrios deal with Minnesota.
Article content
And 2021's top selection, right-hander Gunnar Hoglund, was needed as part of a four-player package to secure Chapman from Oakland.
That meant a lot of research and scouting resources went down the drain, but Farrell chalked it up to the price of building a winner. Baltimore has first pick Sunday with no consensus No. 1 choice.
STAR GAZING
Schneider piled on the positives about All Star Game-bound catcher Kirk, as predecessor Montoyo did. Kirk reached base and scored on an error Friday, then ate up third baseman Emmanuel Rivera with a hot grounder RBI in the sixth.
"He's quiet, he's funny, he's got a lovable look to him, which is the first thing everyone sees. He has a lovable walkout song, then he goes and hits a couple of lasers. Everybody wins."
Kirk's rapid rise through the minors caught everyone by surprise.
"He's pretty unique really. When you put his skill set offensively in a vacuum, you think 'yeah, that'll work, he hits the ball hard'. But what's he's doing defensively is phenomenal, not just from the tactical standpoint with game planning, but the way he's receiving and throwing."