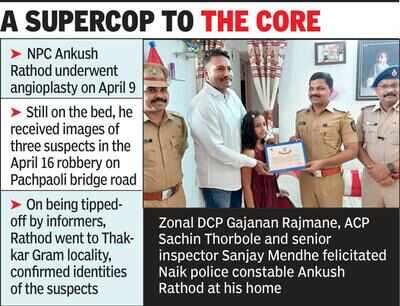 Nagpur: A 39-year-old naik police constable (NPC), who had undergone angioplasty on April 9 to clear an 80% blockage in heart, was restless as he could not join the probe team in the Pachpaoli bridge road robbery on April 16 due to his health. Little did he know then that he would soon become the game changer in the case.
NPC Ankush Rathod, who had suffered chest pain on night duty on April 4 at Pachpaoli police station, was pondering over the incident when he received the forwarded images
(CCTV footage) of the three suspects fleeing on a two-wheeler from Detection Branch (DB) in-charge sub-inspector Jaybhaye and head constable Vijay Yadav.
Lying in bed, Rathod forwarded the images to some of his trusted informers in the Thakkar Gram locality. His sixth sense prompted him to do this, since the spot where bullion trader Ketan Kamdar was stabbed and robbed was close to the crime-prone locality.
One of his informers immediately called him back, stating he knew two of the suspects (Aniket Boronde and Ankit Birha) while the one with shaved hair (later identified as Bittu Shamsheriya) appeared to be an acquaintance but was not sure of his identity. Another reliable informer too identified the suspects but assured to share more information only if Rathod comes in person to meet him.
Ignoring his doctor's suggestion of bed rest, Rathod requested a friend to take him to Thakkar Gram on bike. After receiving confirmation of the identities of the suspects and their addresses, Rathod relayed the information to Yadav and Jaybhaye. The inputs were confirmed to be authentic within three hours of the incident, which helped the police teams crack the case.
Rathod's efforts ensured valuables worth Rs45 lakh, including 1,100 gm gold, were recovered after arresting six who were behind the robbery and stabbing of bullion trader Ketan Kamdar, on Pachpaoli bridge on April 16. Rathod's work also paved the way for police personnel winning a reward up to Rs4 lakh which included Rs75,000 to Pachpaoli police team, announced by city police chief Amitesh Kumar.
Kumar, who lauded the efforts of Rathod, also ensured his certificate of appreciation was handed over to him by Zonal DCP Gajanan Rajmane, ACP Sachin Thorbole and Senior Inspector Sanjay Mendhe of Pachpaoli police station at his house at Gittikhadhan police quarters.
"It was natural instinct of the cop in me to ignore the medical condition and help," said Rathod.
CP Kumar also appreciated the efforts of Asst PI Mayur Chourasiya and his crime branch team under DCP Chinmay Pandit for cornering the suspects at Kamptee at Shamsheriya's relative's place. The final touch was by the beat marshals of New Kamptee police station, who managed to nab the three as they were trying to flee into the lanes and slums.
Police have also arrested two brothers, Prajwal Vijaykar and Shreya, along with Kailash Thakur, for tipping Shamsheriya, who masterminded the heist. The six accused have been remanded till April 22 by the court on Monday.
FOLLOW US ON SOCIAL MEDIA
.