Culturally, as well as geographically, Texas is huge. The Lone Star state has made an outsized footprint on the American cultural landscape thanks to its rich history and the colorful character of its many proud residents. Done right, a trip to Texas is as much about meeting people as it is about seeing sights.
What better way to get a taste of the Texan way of life than lodging at a bed & breakfast? Stays at Texan bed and breakfasts are about much more than having a bed and getting served Texas toast. It's the best way to experience the charm for which Texans are known.
Big as it is, it can be a struggle to figure out where to begin when considering a vacation to Texas. From the Great Plains to the Hill Country, the state has countless beautiful parks and charming towns.
If you're struggling to get planning, take a look at this list of 11 bed and breakfasts in Texas. They represent a wide geographic range and include a number of historic properties and homes which capture the spirit of the land.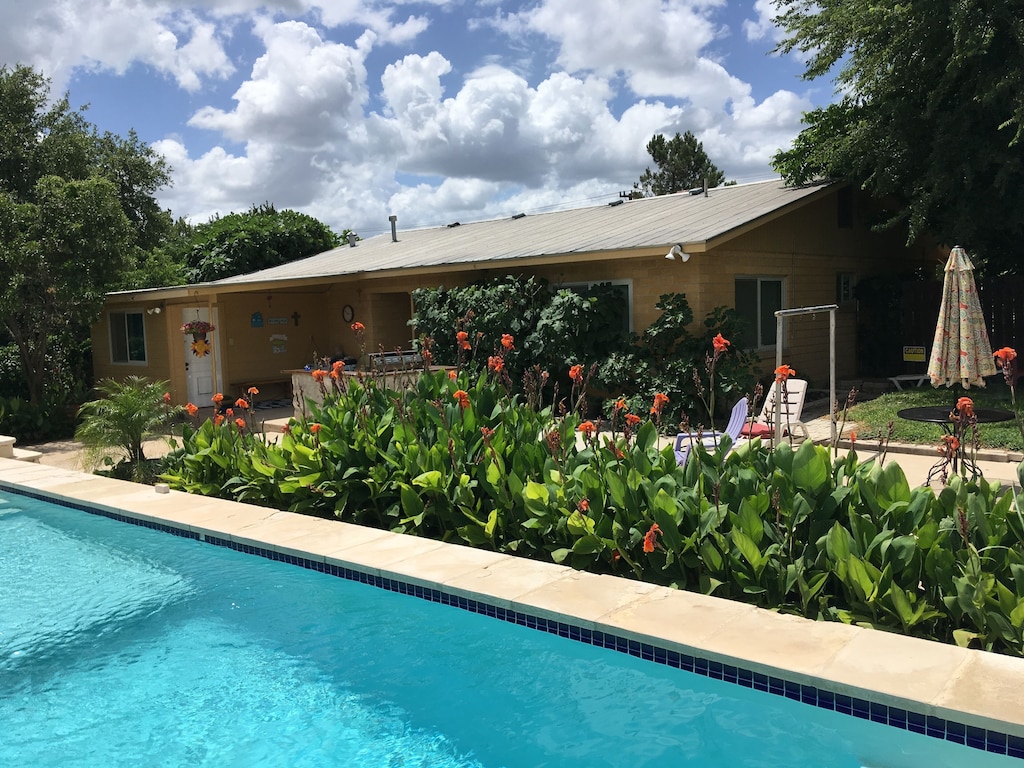 Omi's Bed And Breakfast And Vineyard in Comal County
RentNow$119/avg nightly
For almost 7 decades, the owners of this property have enjoyed their little home between Austin and San Antonio as their little retreat. Today, it is open to the public so everyone can enjoy the pool, vineyard, and idyllic surroundings. Guests are welcome to assist in the process, whether that be weeding or if you visit in April, bottling and drinking the wine that is the end result. There's something relaxing and worthwhile to do all year-round. Whether you're into bow hunting, golf, or grilling, this little two-bedroom home promises more than just a relaxing stay.
Bedrooms: 2
Bathrooms: 2
Sleeps: 4
Unique Eco Cabin On Lake Travis
RentNow$132/avg nightly
An ideal retreat for those at home on the water, this unique cabin less than an hour away from Austin will show guests a side of Texas unseen by most. Guests will have plenty to do with their time thanks to a diverse supply of watercraft — including canoes and stand-up paddle boards. Unique experiences are also offered on-site such as massages, private yoga classes, and energetic healing sessions. There's even a "floating" meditation room. The cabin itself is a beautiful piece of woodwork with a convertible sofa bed and queen mattress in the loft above. The property has many lovely outdoor areas for sitting, walking, eating, and meditating.
Bedrooms: 1
Bathrooms: 1
Sleeps: 4
Cowboy Cottage At Two Angels Ranch, Fredericksburg
RentNow$150/avg nightly
Enjoy a taste of life in the Texas Hill Country from the comfort of this rustic cottage outside Fredericksburg. The furnishings are as eclectic as Austin itself, an hour to the east. There is a lofted bedroom with two doubles and a cozy queen bedroom below. The property sits amidst herds of cattle, providing the home with a true Texas atmosphere. The surrounding area boasts gorgeous geological wonders like Enchanted Rockas well as a number of wineries and a museum dedicated to the heroes who served on the Pacific front during WWII.
Bedrooms: 2
Bathrooms: 2
Sleeps: 6
Treetop Suite At Brazos B&B
RentNow$150/avg nightly
A hidden gem on 18 acres, this splendid home offers much more than just southern hospitality. An hour and a half northeast of Houston, this home is in the middle of wine country. Explore Brazos Historical Park, which boasts history as well as ample wildlife, in between rounds of wine tasting and strolls around the property's gardens. The rental suite is accessed through a separate entrance and includes a private balcony, a kitchen, and a hot tub.
Bedrooms: 1
Bathrooms: 1
Sleeps: 3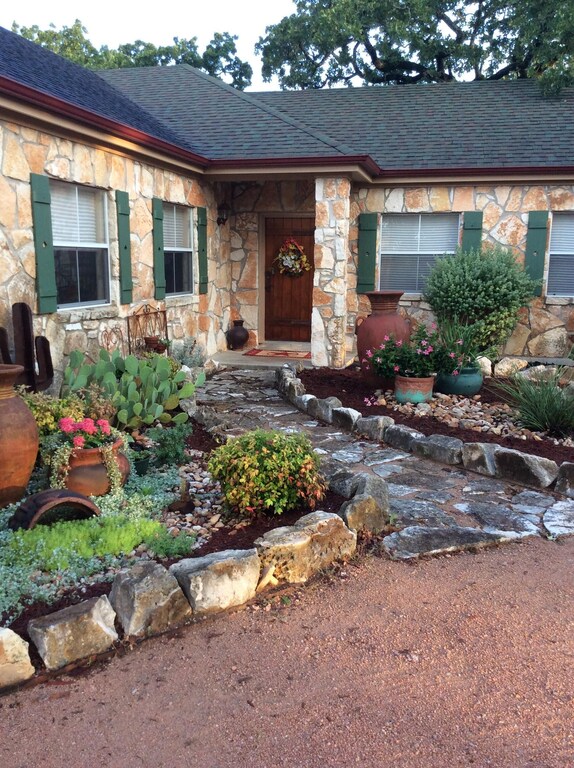 Beautiful Home On A Bastrop County Bluff
RentNow$159/avg nightly
Enjoy a quieter life from this lovely home on a bluff overlooking Texas's Colorado River. The owners only take in one group of guests at a time, so peace and privacy will be the words of the day as you enjoy the home, a slice of old Texas. It was built from Austin stone and is decorated with a plethora of neat antiques. Everyone will appreciate the panoramic views, but none more so than birdwatchers as the skies in this corner of the world are often full of all manner of avian creatures.
Bedrooms: 2
Bathrooms: 1
Sleeps: 4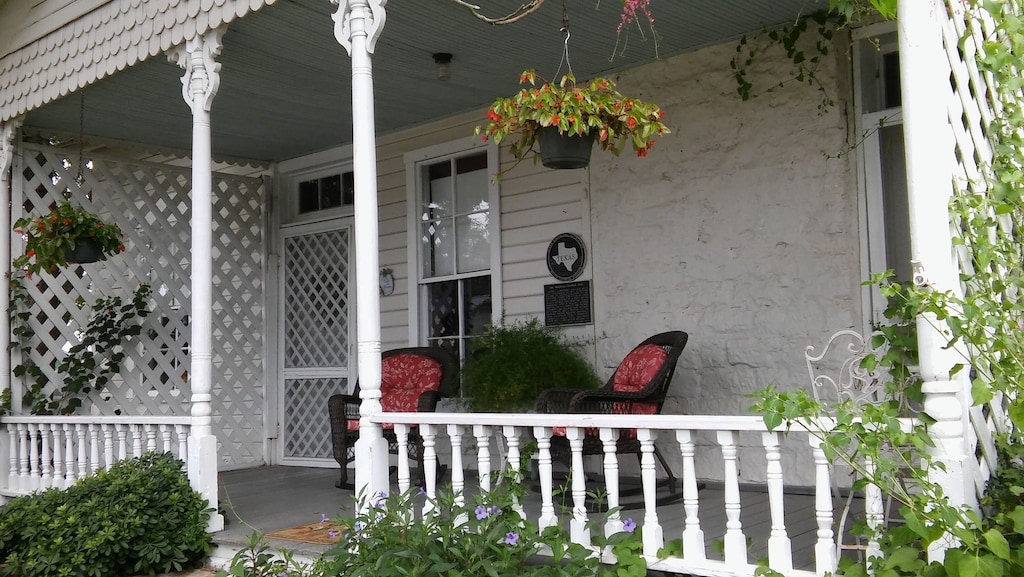 Clara's House At The Homestead in Dripping Springs
RentNow$166/avg nightly
One of three historic homes available on this lot in Dripping Springs, Clara's House is another landmark home and a great way to get in touch with Texas history. Rough stone walls are visible in most rooms, just as they would have been in houses all across America during the frontier days. The furniture matches the period style. Seeing the home, it's no surprise that it has earned a place on the National Register of Historic Places. It has two queen bedrooms and a select few modern amenities. Don't forget to take time to smell the roses that flourish across the property.
Bedrooms: 2
Bathrooms: 1
Sleeps: 4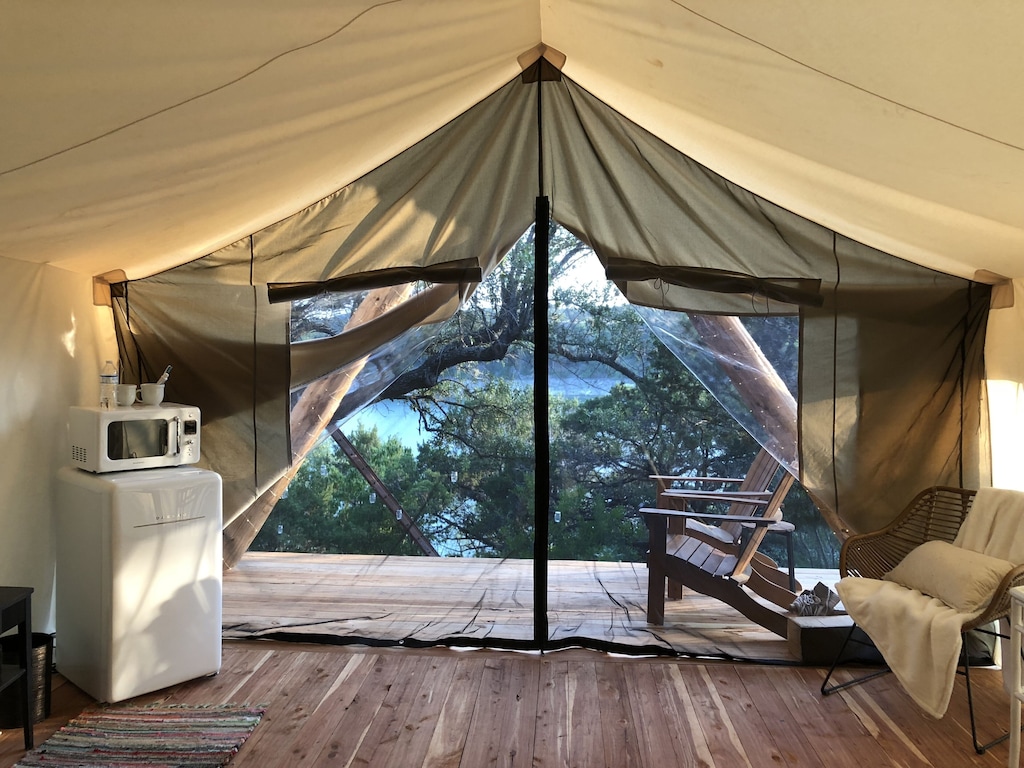 The Firefly – Safari Tent On Lake Travis
RentNow$176/avg nightly
Texas offers visitors a wide array of unique experiences and extraordinary bed and breakfasts. Amongst this deep trough of options, The Firefly on Lake Travis doubtless deserves a mention. It looks quite at home on the shores of the lake but could easily be transported to the African savannah without raising any eyebrows. Pass through the insect-proof curtains and find yourself at a popular watering hole used by all manner of creatures. This dwelling is a simple affair in an incredible location. It has a comfortable king-sized bed, an outdoor shower, and a few other amenities. Care has been taken to ensure there's nothing to distract a pair of guests from enjoying the glory of a lifetime in the great outdoors.
Bedrooms: 1
Bathrooms: 1
Sleeps: 2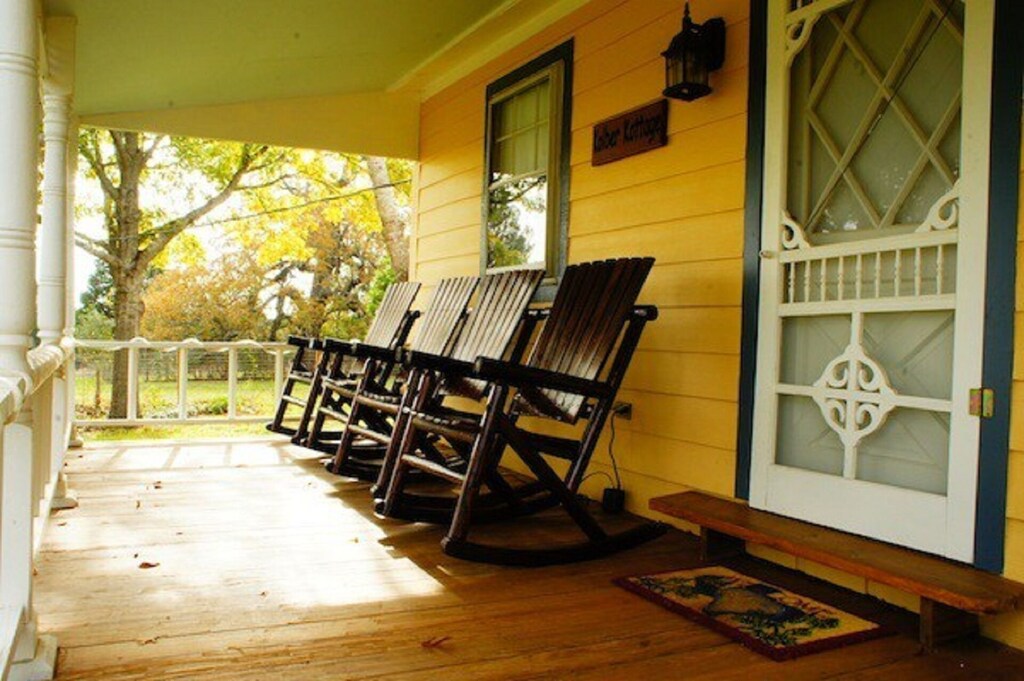 The Kottage In Washington County
RentNow$233/avg nightly
Look out at the protected patch of prairie from this home built by German settlers well over a century ago and see a slice of Texas that few have had the pleasure of witnessing. Up to eight guests can enjoy this historic 26-acre property. This is a rare chance to see the prairie as it used to be. The home has its share of old objects, but there are many more to be found in the shops of Brenham (the purported Antique Capital of Texas) and Round Top (host of a twice-yearly antique festival).
Bedrooms: 2
Bathrooms: 2
Sleeps: 8th
Legacy Suite in Fredricksburg
RentNow$253/avg nightly
Situated in the beating heart of Fredricksburg's shopping district, this fabulous bed & breakfast promises a luxury experience and romantic getaway for couples. A living relic from a bygone era, a stay here promises a trip back in time to when accommodations had an air of extravagance seldom seen today. From the stunning four-poster bed to the plush red sofa that sits before the stone fireplace, it has all the requisite elements to create a glamorous atmosphere. Beyond that, it promises easy access to all of Fredricksburg's wonderful restaurants and exciting activities. In addition to providing breakfast, the owners are happy to help you on your way by pointing you towards rewarding tours of the town and its viticultural and commercial bounties.
Bedrooms: 1
Bathrooms: 1
Sleeps: 2
The Lisenby-Campbell House in Spur
RentNow$299/avg nightly
This historic home in lane, an hour east of Lubbock, has been around for about as long as the town itself — built in 1926. It is the very model of a century home, updated in terms of appliances and plumbing but filled with furniture and woodwork that shine with old -timey allure. It has five bedrooms and can comfortably sleep up to 11 people. Whether you come to Spur for hunting or simply to experience a slice of life in West Texas, this bed and breakfast is the best way to get the most out of the experience.
Bedrooms: 5
Bathrooms: 2
Sleeps: 11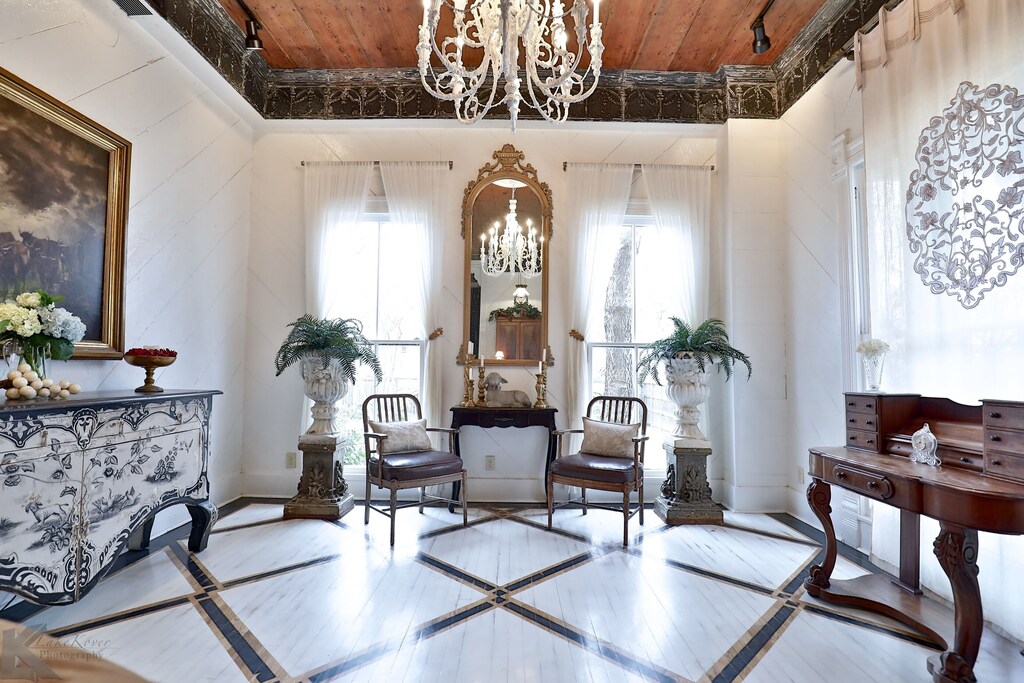 Victorian Home In Abilene
RentNow$750/avg nightly
Wow your family and friends by bequeathing them an unforgettable experience at this historic home on the plains. A jewel when it was built in 1889, the charm and luster of Hattie's House have only increased over time. From the kitchen and sitting room to the master suite, the home is a magnificent mix of modernity and timeless charm. It is the perfect space for a memorable gathering and can sleep up to 13 across five bedrooms. There is a stately pool, a spacious backyard, and a hot tub. As an added bonus, this Sayles Boulevard home is a little more than a mile from all the downtown highlights.
Bedrooms: 5
Bathrooms: 7
Sleeps: 13
Check out some other fun activities to add to your Texas trip!